BACON-WRAPPED QUAIL BREASTS WITH HERB VINAIGRETTE & HOT HONEY
Makes 4 Servings
WINE PAIRING
French Rhone GSM Blend
Dates are the sweet surprise inside these dainty bacon-wrapped quail breasts. You'll be surprised how quickly this dish comes together with our boneless quail breasts. We like it drizzled with herb vinaigrette and hot (as in chile-steeped) honey. For extra style points, fry the quail skin to make crispy "chicharrons" and garnish with chive blossoms.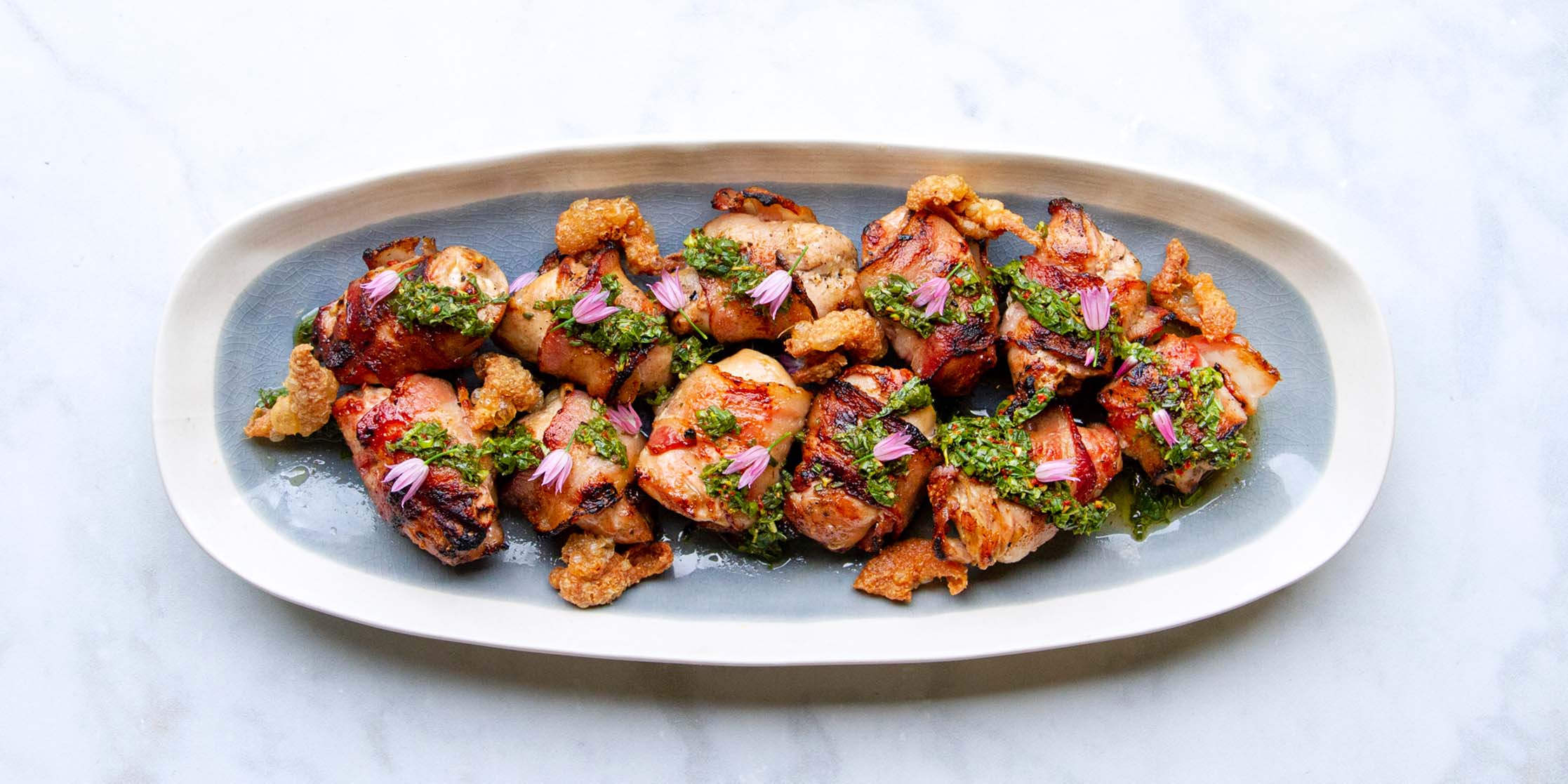 INGREDIENTS
FOR THE VINAIGRETTE:

2 tbsp minced shallot

1 garlic clove, minced

3 tablespoons white balsamic vinegar

1 tbsp minced fresh mint
1 tbsp minced fresh parsley
1 tbsp minced fresh basil
1 tbsp minced fresh chives

1/4 cup olive oil

1/4 teaspoon espelette pepper

Salt and pepper to taste
FOR THE HOT HONEY:
1 cup honey


Dried chilies
FOR THE QUAIL:
10 Boneless Quail Breasts (one pack)
10-12 thin strips of bacon, cut in half crosswise

3 whole pitted Medjool dates, quartered

Wooden skewers, soaked in water
GARNISHES (OPTIONAL):

Quail skin chicharrons

Chive blossoms
DIRECTIONS
1
Whisk together all the ingredients for the vinaigrette and set aside.
2
Put the honey and chiles in a small pot and cook over low heat for an hour to infuse. (Use your favorite chilies. More chilies make hotter honey. Hotter chilies make hotter honey.)
3
Remove the skin from the quail breasts. (To make chicharrons, pat the quail skins dry and fry them in oil at 350°F until golden brown and crisp.)
4
Place a quartered date in the center of each quail breast. Wrap the quail around the date. Wrap the bacon around the quail. Thread the quail on skewers to hold the bacon in place, two or three per skewer, leaving enough space between each piece that they can cook all the way around.
5
Gently rub or brush each bacon-wrapped breast with canola oil to keep it from sticking during cooking. Season with salt and pepper.
6
Grill over medium direct heat until fully cooked through, about 8 minutes, turning frequently to keep them from burning.
7
Remove from skewers onto a serving platter or plate. Drizzle with reserved vinaigrette and hot honey. If desired, garnish with chive blossoms and quail skin chicharrons.