Red Wine Braised Short Ribs
Makes 6 Servings
WINE PAIRING
Brunello or Cabernet Sauvignon
Red wine-braised grass-fed beef short ribs are delicious and fork tender. Here we've paired them with an olive gremolata that tempers their richness so the finished plate doesn't feel too heavy.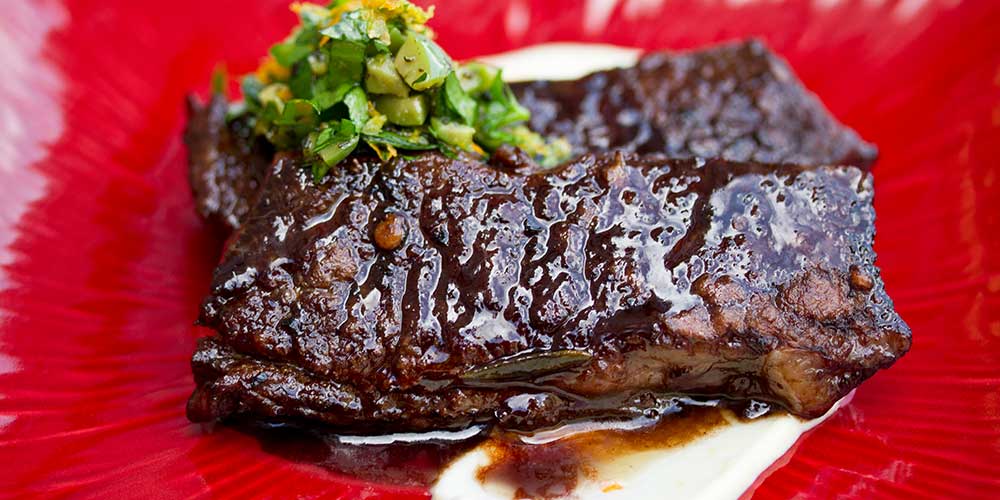 INGREDIENTS
5 sprigs of Fresh Thyme

3 sprigs of Fresh Rosemary

2 ribs of Celery, cut into thirds

2 Carrots, peeled & cut into thirds

2 Bay Leaves

1 bottle Full Bodied Red Wine (we used Cabernet Sauvignon)

Beef Stock to almost cover (we used 4 cups)

Oil for Searing
Gremolata:

3 tbsp Green Olives, pitted & chopped (we used Castelvetrano)

1 tsp Fresh Rosemary, chopped

1 tsp Fresh Thyme chopped

1 tsp Orange Zest, very finely minced or microplaned

3 tbsp Fresh Flat Leaf Italian Parsley, roughly chopped

2 tbsp Fine Extra Virgin Olive Oil (we used Planeta Olive Oil)

Salt & Pepper to taste
Optional Marinade:

Enough full bodied Red Wine to cover

2-3 sprigs Fresh Thyme

2-3 sprigs Fresh Rosemary
DIRECTIONS
1
Dry off the short ribs completely.
2
Optional: Marinate the ribs overnight in enough red wine to cover, plus a few sprigs each of fresh thyme & rosemary. Remove them from the marinade & dry them off completely.

3
Optional: Cut the short rib slices in half if necessary to make them more manageable.
4
Preheat your oven to 350 degrees.
5
Salt & pepper the short ribs, then sear them on all sides in a very hot oiled frying pan or cast iron skillet.
6
Move the seared short ribs to a Dutch oven or stock pot. Drain some of the excess fat out of the searing pan, then repeat the searing step with additional batches of ribs as necessary.
7
Once all the ribs are seared and in the Dutch oven, add the celery, carrots, bay leaves, red wine, thyme, rosemary, salt & pepper.
8
Put the Dutch oven on the stove at medium heat and bring the wine to a simmer. Simmer briefly to evaporate some of the alcohol.
9
Add enough beef stock to almost cover the other ingredients, then put the lid on the pot and move it to the oven to
braise
until the short ribs are tender (2-4 hours). When the bones release easily from the short ribs, they should be about ready.
10
Optional: For even better flavor, let the finished short ribs rest overnight in the braising liquid in your refrigerator.
11
Remove the short ribs from the pot & set them aside. If doing this step well before your planned meal, store them in a baking dish covered with a little of the braising liquid & a sheet of parchment paper to keep them from drying out.
12
Strain the remaining braising liquid and discard all the vegetables and herbs. Simmer the liquid until it reduces by half.
13
Make the gremolata by mixing the olives, rosemary, thyme, orange zest, parsley, and olive oil together in a bowl. Taste and add salt & pepper as necessary.
14
Reheat the short ribs by simmering them briefly in the reduced braising liquid.
15
Top your starch of choice (we used cauliflower puree) with the short ribs. Drizzle the ribs with a little bit of the reduced braising liquid. Top with the gremolata. Serve.