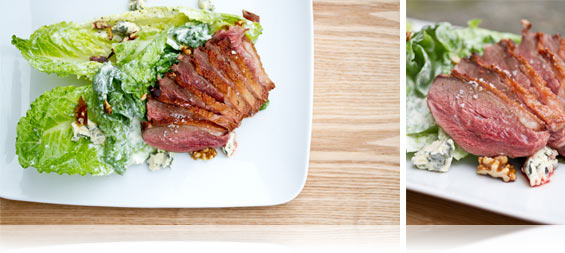 Seared Goose Breast, Apple & Blue Cheese Salad
The sharpness of the blue cheese, crisp lettuce and sweetness of the walnuts help balance the rich, deep flavor of the goose breast. Decadent.
Wine Pairing: Cabernet Sauvignon
Ingredients: (Makes 6 Servings)
2 Goose Breasts
2oz Blue Cheese, crumbled (we recommend Point Reyes, Cabrales or Maytag)
1 large head Romaine Lettuce
½ Fuji Apple, thinly shaved
Salt & Pepper
Salad Dressing: (makes extra)
6oz Blue Cheese (same variety used for the salad)
4oz Sour Cream
4oz Heavy Cream
1oz Apple Cider Vinegar
Plus: Maple Candied Walnuts Recipe, to taste
Directions:
1. Make the Salad Dressing: In a food processor or blender combine the blue cheese, sour cream, heavy cream and apple cider vinegar. Blend to combine & store in the refrigerator.
Note: This can be made the day before. The dressing will thicken over time. Thin it out as necessary with additional heavy cream or apple cider vinegar.
2. Get a dry cast-iron skillet or large stainless steel frying pan hot over low medium low heat.
3. Score the goose breasts, cutting through the skin and through the fat – almost down to the meat.
4. Lay the goose breasts into the pan, skin-side down and cook until the fat is rendered out (probably around 20 minutes).
As the fat accumulates in your pan, drain off the excess into a heat-proof container for later use as a cooking fat in other dishes (it's delicious!).
5. Once the fat has completely rendered, flip the breasts over and continue to cook for about two minutes.
6. Toss the lettuce with chunks of blue cheese, apple, maple candied walnuts, salt & pepper and the dressing. Top with portions of goose breast & serve.

____________
Browse More:
Goose Recipes