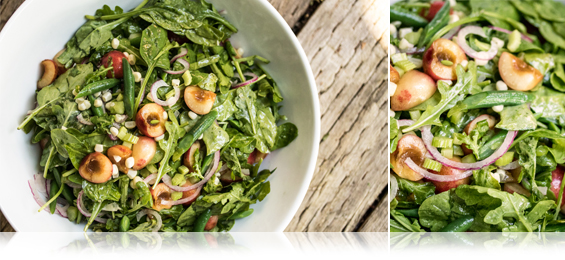 Summer Salad with Green Cucumber Vinegar Vinaigrette

Bright, crisp, fruity, this salad is perfect for a hot summer's day.

Ingredients:                       Serves 8-10 as a side salad
1 pound Green or Yellow Wax Beans
2 cups Cherries (we used Rainiers), pitted and sliced in half
2 stalks Celery, small diced
2 ears Sweet Corn, kernels cut from cob
1/2 small Red Onion, sliced thinly on a mandoline
6 cups Baby Arugula and Spinach
1/2 cup Green Cucumber Vinegar
2 Tbsp Olive Oil
2 tsp Lemon Juice
Salt and Pepper to taste

Directions:
Bring a small pot of salted water to a boil, and set a bowl of ice water in the sink. Remove the tops from the wax beans, and blanch in the boiling water just until crisp-tender (not more than 30 seconds to 1 minute). Plunge them into the ice water to stop the cooking. Slice on a sharp bias into 1-inch pieces.
In a large bowl, combine the wax beans, cherries, celery, corn kernels, red onion, and salad greens.
In a small bowl, whisk the cucumber vinegar with the olive oil and lemon juice, and add salt and pepper to taste. Drizzle over the salad, and toss just until well incorporated. Serve right away.
____________
Browse More:
Vinegar Recipes