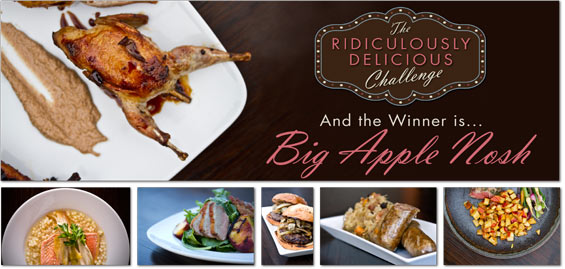 Oh man, this was a ridiculously delicious ride!  Many thanks to everyone for making our jobs so much more delicious.  Certainly, all of our culinary horizons have been expanded.  And, there is no question that all of the challengers are rather ridiculously delicious, proof being that every single challenger in this stage received at least 3 votes!  A big kudos to everyone.  Amazing.
In the end though, NoshGirl toppled her competitors in the final challenge with 11 votes by mastering the secret ingredient: fresh wasabi rhizomes.  Check out her winning recipe:  Fresh Wasabi Pan-seared Scallops in Brown Butter Sauce.  Delish.  Of course, just to get to the final challenge she had to jump through all sorts of other culinary hoops. You can read all the details at the Ridiculously Delicious recap.
Ultimately she and nine other bloggers put their wasabi recipes up to be judged by all of the Ridiculously Delicious challengers and the Marx Foods staff.
Other Notable Performances Include:
                  Lawyer Loves Lunch              9 Votes
                  Wasabi Fried Shrimp with Avocado-Wasabi Sauce
                  Eats Well With Others          7 Votes
                  Homemade Ginger Pasta with Sweet Potato-Wasabi Sauce
                  Snippets of Sue                    7 Votes
                  Wasabi, Avocado & Ginger Ice Cream
NoshGirl's reward:
Of course, this wild culinary journey started with a single step: choosing what she would win at the end. In her initial survey post, NoshGirl picked a case of pekin duck breasts, two live geoducks, and a specialty sausage sampler as her ultimate rewards…so that's just what she's going to get! Congratulations!
Thanks to Everyone Who Participated.  This was super fun and we can't wait to get even more ridiculously delicious next year.
Ridiculously Delicious 2012 – Get Ready Now!
Stay tuned to this blog! Not only will we continue to have drawings & recipe challenges throughout the year, but if you win one of those, you'll be eligible to participate in Ridiculously Delicious 2012! Remember: it won't be ridiculous if it isn't even bigger than 2011's!