Lamb Shoulder Racks w/ Fattoush & Yogurt Sauce
Makes 4 lunch Servings
WINE PAIRING
Syrah
Here lamb shoulder racks are roasted and sliced into elegant bone-in chops, then served with fattoush salad and a creamy, dilly yogurt sauce.
Fattoush is a Lebanese salad made with pita bread that has been toasted until crispy, then crumbled. It is crunchy, fresh, bright & salty, and balances the richness of the lamb beautifully.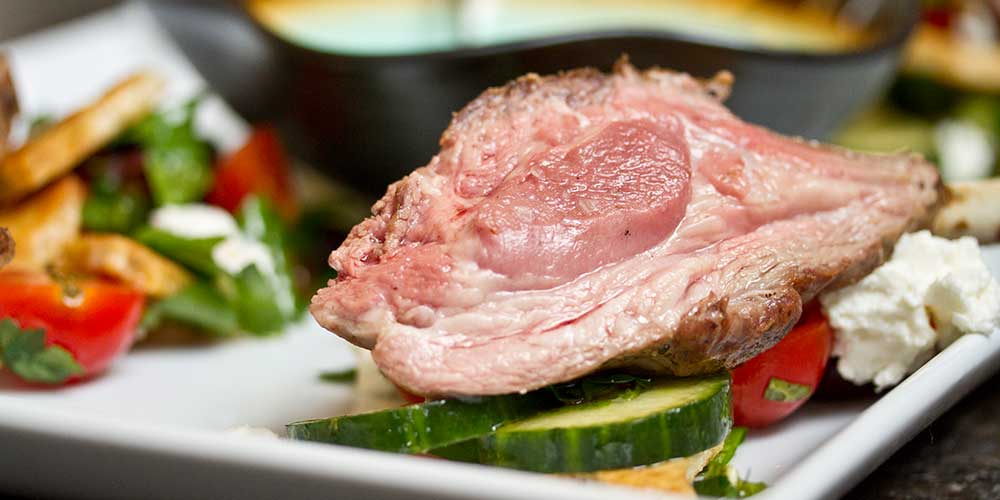 INGREDIENTS
Yogurt Sauce:

½ cup Yogurt

¼ tsp Dill Pollen

½ tsp Honey (we used Wild Heather Honey)

Pinch of Salt
Fattoush:

½ English Cucumber

2 cups Cherry Tomatoes, halved

½ cup Fresh Parsley Leaves, coarsely chopped

½ cup Pitted Kalamata Olives, sliced lengthwise

3 Greek Pita Breads

1 tbsp Mint Leaves, coarsely chopped

1 tbsp Pomegranate Molasses

Juice of ½ Lemon

1/2 cup Olive Oil

4oz Greek Feta, cubed

Pinch of Salt

Pinch of Cracked Black Pepper
DIRECTIONS
1
Toast the pita breads in your toaster or bake them in the oven until they're crispy enough to be broken into shards. Break them into small pieces.
2
Preheat your oven to 350˚F.
3
Slice the cucumber into 1/8" thick rounds, then cut those rounds in half.
4
Combine the cucumber, cherry tomato, pita, parsley leaves, kalamata olives and mint in a large bowl.
5
In a separate bowl combine the molasses and lemon juice. While whisking, slowly drizzle in the olive oil. Add salt & pepper.
This step can also be done in a blender.
6
Get an oiled, oven safe frying pan or skillet hot on the stove. Sear the shoulder racks on one side over medium high heat.
7
Move the pan to the oven and roast until the meat reaches an internal temperature of 125˚F.
8
Remove the racks from the oven and let them rest (covered) for 20 minutes.
9
Slice the racks into one or two-rib sections.
10
Mix half of the dressing into the salad. Taste & check the salad for consistency, then add more dressing until it's the way you like it (you may have some left over).
11
Whisk together all the yogurt sauce ingredients.
12
Put servings of the salad on plates (or on a single platter, as we did). Sprinkle the feta cubes over the salads. Add the yogurt sauce on the side or in bowls in the center of the plate.
13
Top the salads with the rib chops. Sprinkle additional dill pollen over the sauce & serve.