Grass-Fed Beef Top Sirloin Roast with a Spiced Tomato Crust
Makes 6-8 Servings
WINE PAIRING
Merlot
Add a lot of flavor to your roasts without a lot of extra work using this recipe. The tomato crust is earthy, rich, and herby with a bit of bite from the garlic and chili powder. It's a great counterpart to the leaner, beefier flavor of grass-fed beef.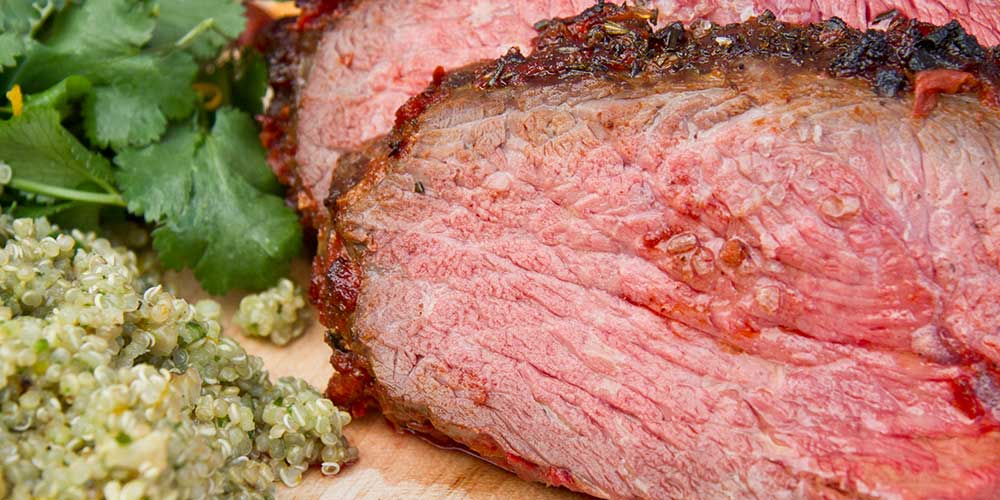 INGREDIENTS
10 Oil Poached Tomato pieces (Jarred)

1 tsp Ground Cumin

2 tsp chopped Garlic

2 tsp Chile Powder of your choice

½ tsp Red Pepper Flakes

1 tsp Smoked Paprika (pimentón)

3 tsp Olive Oil

1 tsp Kosher Salt

1/2tsp Fresh Rosemary, chopped

3 finger pinch of Coarse Sea Salt
DIRECTIONS
2
Remove the
roast
from your refrigerator an hour before you plan on cooking it so it can come to room temperature.
3
Preheat your oven to 250 degrees.
4
Combine the tomatoes, garlic, cumin, chile powder, chile flakes, paprika, kosher salt &3 tsp of olive oil in a blender. Blend into a smooth paste.
5
Put the roast on a rack over a roasting dish & coat it with the paste on all sides.
6
Sprinkle the top of the rubbed roast with the chopped rosemary and coarse sea salt.
7
Roast to an internal temperature of 120 degrees, then remove the sirloin from the oven. Let it rest for 20 minutes.
8
Return the roast to the oven and broil it to develop a crust. Slice & serve.