Grass-Fed Beef Standing Rib Roast
A"standing" ribeye roast is one of the most opulent, impressive roasts you can prepare, especially if you use a bone-in ribeye roll and French the bones for a more striking presentation.  This is a very basic roast recipe, but thanks to the quality of the beef, the results are stupendous.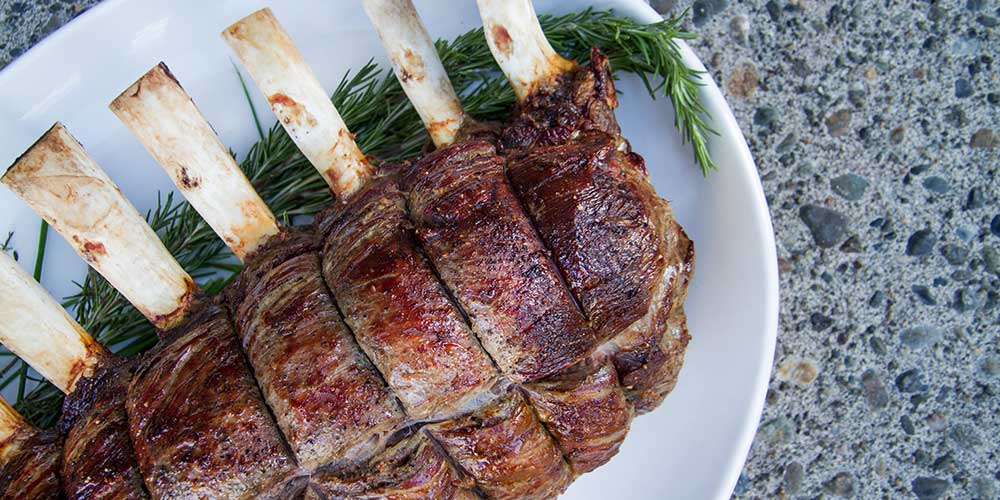 DIRECTIONS
1
Preheat your oven to 400˚F.
2
Peel the carrots & split them lengthwise.  Split the celery ribs lengthwise.  Peel the onions and thickly slice them.
Clean & French the Roast:
3a
Follow the seam on the "lip" (layer of meat above the bones) with your knife, removing it to expose the bones.
3b
Cut the finger meat from between the bones down to the main eye of the muscle (see the cooked roast photo above to get a sense of how far you should go). Then scrape any meat or membrane that clings to the bones off with a paring knife.
3c
Trim off the silver skin (
how to remove silverskin
), trim down any thick surface fat, and cut off any surface membranes.
4
Optional: Tie the Roast – Tie loops of butcher's twine around the meat between each rib.  Pull it tight to compact the meat.  This will give you a rounder, more attractive eye, but will likely also slightly increase the cooking time.
5
Season the roast on all sides with salt & pepper.
6
Put the vegetables in a roasting pan and put the roast on top of them.  Wrap the exposed portion of each bone with aluminum foil.
7
Roast the rib roast until it reaches an internal temperature of 120˚F (for medium rare).  This could take about two hours.
8
Remove the roast from the oven & the roasting pan.  Loosely cover it with foil, and let it rest for thirty minutes.
9
Remove the vegetables and residual fat from the pan. 
Deglaze
the pan with the red wine, scraping all the browned bits off the bottom and into the wine.
10
Pour the wine mixture into a sauce pan and add the butter.  Heat & swirl to incorporate the butter into a finished sauce.
11
Optional: If you tied the roast, cut the butchers twine loops & pull them off.
12
Serve the roast (pre-sliced or sliced tableside) with the sauce and your choice of sides.