Makes 4 Servings
DRINK PAIRING
Mimosa
Shakshuka is a traditional breakfast dish in North Africa, Israel and some parts of the Middle East. It consists of poached eggs served atop a heavily herbed tomato sauce & served with bread.
Given Shakshuka's origins, the fact that this version contains bacon probably makes it totally inauthentic…but that doesn't mean it's not really, really tasty.
We think it'd make a great breakfast or brunch, but you could have it for lunch or dinner too.
We used a caramelized onion, bacon & merlot tomato pasta sauce, but you can substitute other tomato sauces to change the flavor/leave out the bacon (or add your own bacon if you don't have bacon sauce handy).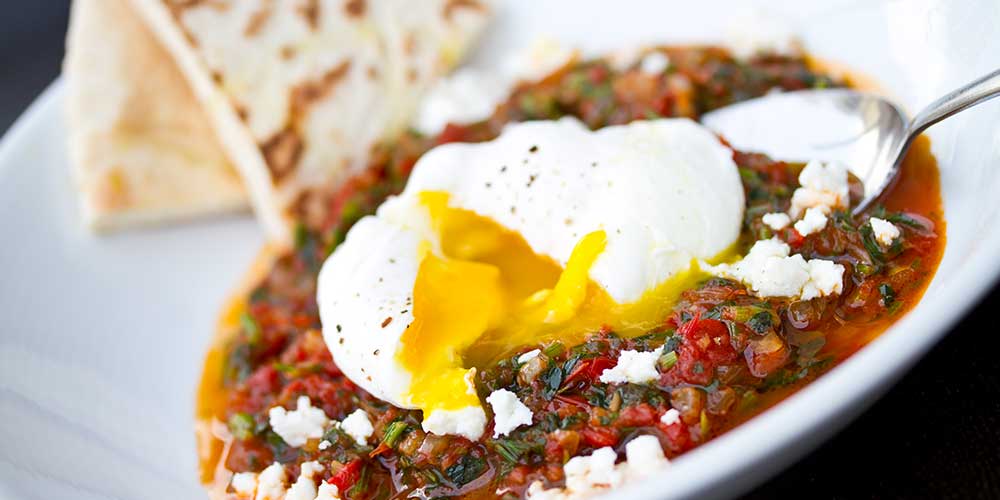 INGREDIENTS
¼ cup minced Hot Peppadew Peppers

1 jar High Quality Pasta Sauce

4 Large Eggs


¼ cup Olive Oil

1 cup diced Yellow Onion

2 oz Israeli or French Feta Cheese

1 bunch Fresh Parsley, minced (leaves & stems)

4 Pieces of Pita Bread
DIRECTIONS
2
Once the eggs have poached, move them to an ice water bath to cool.
3
Put the 1/4 cup of olive oil in a pan over medium high heat and add the diced onion.
4
Sweat
the onions until softened and translucent (about 3 minutes).
5
Add the minced peppadew peppers & sauté for 2-3 minutes.
6
Add the bacon tomato sauce. Simmer until thickened (about 10 minutes).
7
Add the parsley & simmer for another 5 minutes.
8
Warm the pita bread in the oven and cut it into quarters.
9
Ladle the mixture into four bowls, pressing down with the bowl of the spoon in the middle to create a small depression.
10
Place a poached egg in the depression in each bowl. Sprinkle 1 tbsp of feta cheese on top of each egg.
11
Season with salt & pepper. Finish with a drizzle of extra virgin olive oil. Serve.