Mini Phyllo Tartlettes with Greek Salad and Rabbit Sausage with White Wine
These little one-bite appetizers are pretty quick to put together and are excellent to serve at summer cocktail parties. The combination of delicious savory rabbit sausage with the bright refreshing flavors of the Greek salad is terrific.
Ingredients:
2 Rabbit Sausages with White Wine
2/3 cup Tomatoes, small dice
3 tablespoons Olives, chopped
3 tablespoons Red Onions, minced
1 tablespoon Fresh Dill, finely chopped
3 tablespoons Feta Cheese, crumbled
1 tablespoon Extra-Virgin Olive Oil
2 tablespoons Red Wine Vinegar
1/2 teaspoon Dried Oregano
Salt & Pepper to taste
16 Phyllo Tartlette Shells (homemade or store-bought)
Directions:
1. Grill sausages on medium heat for about 10-12 minutes, turning often on all sides. Slice each sausage in thin rounds.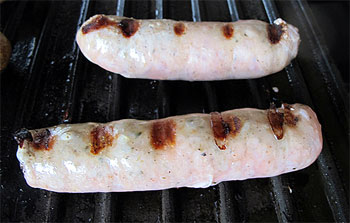 2. In a bowl, combine tomatoes, olives, red onions, dill, feta cheese.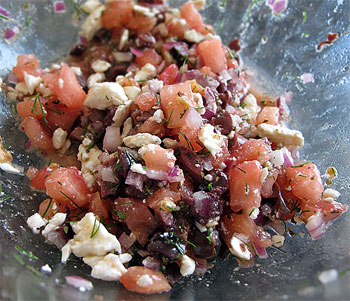 3. In a separate small bowl, whisk extra virgin olive oil, red wine vinegar, oregano, salt and pepper. Pour over the salad.
4. Place a little bit of Greek salad at the bottom of each tartlette, top with a sausage round, and place a little bit more salad around the sausage.
Recipe Development & Photography by Natasha Price, 5 Star Foodie
___________
Browse More:
Sausage Recipes
Rabbit Recipes