Melissa of the-wynk.net (My Own Little Dust Pile) was kind enough to take some of our organic rolled spelt flakes out for a spin, with delicious (and humorous) results: 
—————-
I'll admit, I'm something of an oatmeal fanatic. I have been known to eat it for breakfast, lunch, and dinner (well…not all in the same day), and I keep a regular supply in both steel-cut and rolled form. When I found out about flaked spelt and heard that you could use it in much the same way as you could use oatmeal, I was pretty eager to try it. Marx Foods sent me a one-pound bag and I was determined to use it in as many different things as possible. Let it never be said that I am not thorough with food.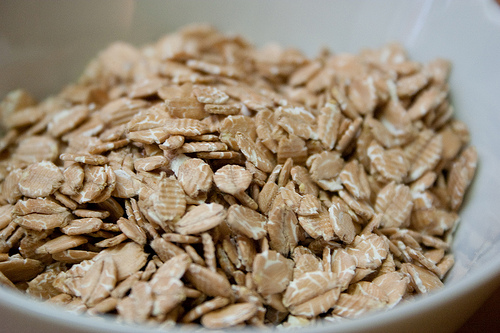 The first test was to just eat it straight. I wanted to get a feel for the texture and flavor of it before trying it out in some other foods.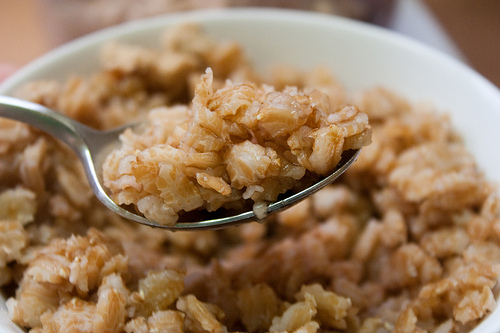 I have to say, this was probably the most surprising of all, and it was also the simplest. It can't escape the comparison with rolled oats in its uncooked form, but cooked in water as a hot cereal, it turns into something completely different. Each grain was distinct, without all of the starchy liquid oatmeal produces, and it had a delightfully nutty flavor (which went fabulously with brown sugar) and chewy texture, which reminded me more of farro or steel-cut oats than of rolled oats.
This led me to my next thought–could flaked spelt, like farro, be used in a savory dish? I trotted out the farro salad recipe from Alice Waters' The Art of Simple Food, which is a refreshing and simple salad with a tangy dressing and fresh parsley.
The spelt's distinct and chewy texture worked well here, too, although in the end I decided that my use of a sweeter vinegar was probably not something I'd repeat. The spelt has a bit of natural sweetness to it, and would be better served by something a bit tangier. It'd also be good with some green onion or lemon zest, the kinds of things you might toss in couscous.
A few days later I found myself making bread (it happens a lot at my house) and decided to toss a little bit of spelt into one of the loaves. I made this for work and it was a huge hit, although the homemade apple jelly I brought with it probably didn't hurt, either.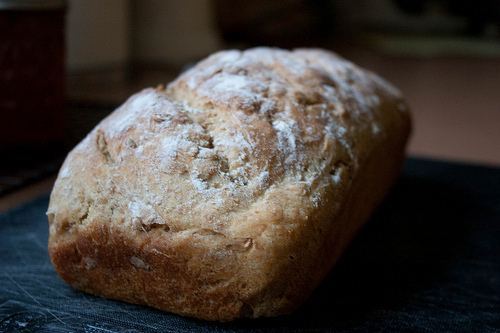 This is the pumpkin oatmeal bread from Artisan Bread in Five Minutes a Day, and the spelt flakes again added a nice wholesome chewiness to the loaf. There's something really…cozy about incorporating grains and nuts into a homemade bread.
One Saturday I found myself at my favorite farmer's market hoarding some absolutely gorgeous strawberries when I caught some beautiful red stalks out of the corner of my eye. I grabbed a couple of bunches and immediately resolved to make a strawberry rhubarb crumble. I'd never had rhubarb before and was looking forward to testing two things at once. I did a bit of quick searching, found a recipe for the crumble part of it, and basked in what turned out to be probably the best dessert I've made all year. The flaked spelt held together the buttery crumble perfectly, retaining just the right amount of chewiness-to-softness-ratio and providing a nice contrast to the soft fruit underneath. I was in heaven.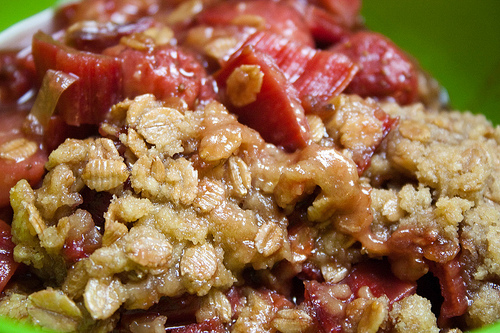 At least, I was until the next day when I realized that what I had bought was not rhubarb, but red chard.
:facepalm:
In my defense, I'd never seen rhubarb with the leaves on, or chard that enormous, but I felt like an idiot. So I went and tasted it again, it was still good, and I decided I'd just tell myself it was a brilliant use of vegetable in dessert.
Suuuuure it was.
Now, there were two things left that I had on my list to do. First, I wanted to make granola, because it's sort of the quintessential oatmeal recipe, and if you're going to compare flaked spelt to oatmeal, then it really needs to hold up in the granola test. And well, it says so on the package.
I adapted David Lebovitz's granola recipe, which I like because it's not super sweet. If you're one of those that DOES like it super-sweet, just add a bit more sugar or honey. Be sure to let this cool before eating it because that's what gives the granola its crunchy texture.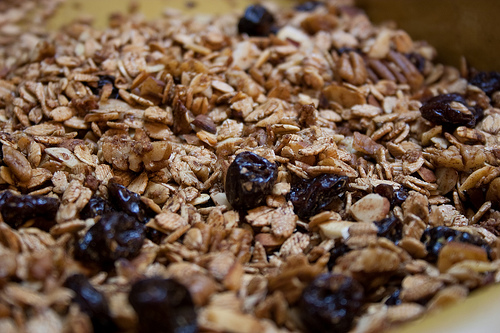 Nutty Spelt Granola
adapted from David Lebovitz's Granola Recipe
Heat oven to 300F.
Mix together:
1/2 lb. flaked spelt
1 1/2 cups nuts, coarsely chopped (I used half and half pecans and slivered almonds)
1/2 cup dried cherries, cranberries or raisins
1/4 cup brown sugar
1 tsp cinnamon
1/2 tsp ground ginger
1/4 tsp ground allspice
1/2 tsp salt
Warm in a small saucepan:
1/2 medium apple, cut into chunks and pureed in a food processor or blender (with peel)
1/4 cup maple syrup
2 Tbsp honey
Pour the apple mixture onto the spelt and nut mixture and mix until thoroughly incorporated. Spread onto a cookie sheet and bake in the oven for 30 minutes or until well browned, stirring every 10 minutes or so. Let cool before eating.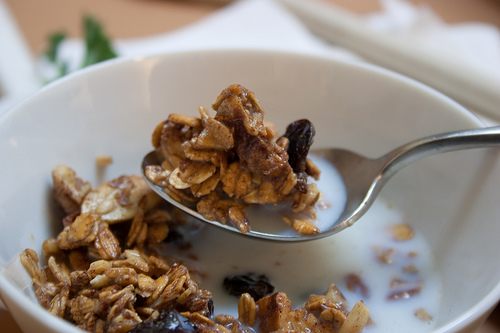 The other thing I really wanted to try was flaked spelt in pancakes. I had just gotten done (before the spelt came in the mail) testing a few whole-grain and oatmeal pancake recipes for another blog, and thought this would be a great vehicle for the spelt flakes. I actually had a blast with this one and called it "Pancake Victory!" the rest of the day, because it's the first baked-goods (sort of) recipe that I had ever made completely out of my own head. And they are reminiscent of oatmeal cookies, which is exactly what I was going for. These pancakes are a darker brown because of the whole wheat flour.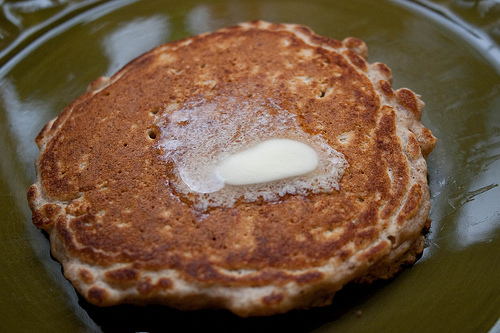 "Oatmeal Cookie" Spelt pancakes, a.k.a. Pancake Victory
Makes 4-6 pancakes
Ingredients:
1 egg, beaten
6 fl. oz (3/4 cup) milk (for extra flavor, use goat milk or buttermilk)
1 1/2 Tbsp butter, melted and cooled
1 tsp vanilla extract
1/2 cup flaked spelt
2/3 cup whole wheat flour
1/4 tsp salt
1 tsp baking powder
1/2 tsp sugar
1/2 tsp cinnamon
1/4 tsp ground cardamom
1/4 tsp ground cloves
If you prefer your pancakes less chewy, pulse the flaked spelt in a food processor or blender a couple of times.
Mix together egg, milk, melted butter, and vanilla in large bowl. Add dry ingredients and mix till just combined. Heat a nonstick skillet or buttered griddle over medium heat. Pour batter onto skillet in 1/4 or 1/3 cup amounts and cook till done. Serve with real maple syrup. Brag to your friends and neighbors.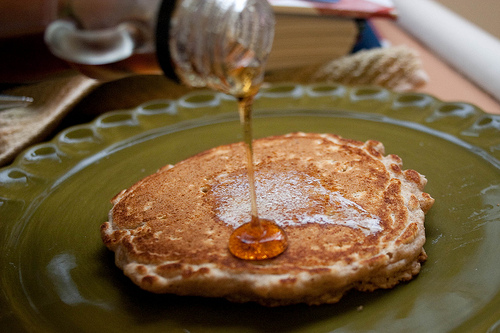 And that was the last of the spelt. I'd say this was a pretty huge success, and because of its chewy, distinct texture and its ability to be used in savory as well as sweet dishes, it's actually got a leg up on rolled oats. I had a lot of fun going on my little spelt adventure and am so pleased I had such great success with everything I tried!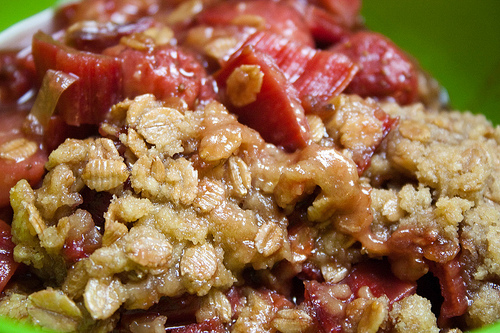 Even this. Ahem.
Photos by Melissa Mikus, available under an Attribution-NonCommercial-ShareAlike license.
___________
Browse More:
Grain Recipes