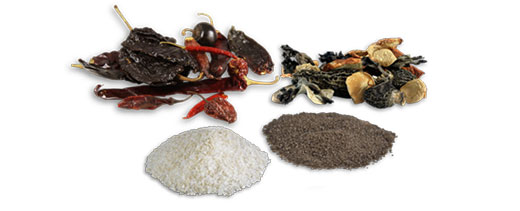 Though people often think of MarxFoods.com as a gourmet meats and specialty seafood store, we actually offer a huge variety of fine produce and non-perishable items including top quality dried chilies, specialty salts, and dried wild mushrooms.  Here are just a few examples:
Dried Chilies:    Aji Panca, New Mexico, Chipotle, Puya, Japones, De Arbol, Habanero, Pasilla Negro, Ancho, Guajillo, Smoked Serrano, Aji Amarillo, Thai, Organic Aji Panca, Organic Chipotle, Organic New Mexico, Organic Aji Limo Rojo, ghost chile and Organic Aji Cereza. 
Specialty Sea & Flavored Salts: Portuguese Flor de Sal, Truffle Salt, Hawaiian Black Sea Salt, Hawaiian Red Sea Salt, Hawaiian Pink Sea Salt, Gray Sea Salt, Black Sea Sea Salt, Himalayan Pink Salt, Coarse Smoked Salt, Lime Salt, Espresso Salt, Habanero Salt,Green Chile Salt, Szechuan Pepper Salt and Ginger Salt.
Dried Mushrooms: Dried Porcini Mushrooms, Dried Lobster Mushrooms, Dried Chanterelle Mushrooms, Dried Maitake Mushrooms, Dried Oyster Mushrooms, Dried Black Trumpet Mushrooms, Dried Matsutake Mushrooms, Dried Shitake Mushrooms.