Heather from Farmgirl Gourmet shared this delicious mosto cotto triple chocolate truffle recipe with us and we think it is stellar. Check it out!
Triple Chocolate Mosto Cotto Truffles
I'm going to let you in on a secret.  I am not a candy person.  I will eat it, but I don't crave it.  Even chocolate.  I heard you gasp!  I do enjoy a good truffle though.  For the longest time I thought "they are too hard to make", after all, I'm no chocolatier.
Well many years ago I stumbled on a recipe that changed this notion for me.  This recipe is so easy to make and you can tweak it to make any flavor you'd like.  Including these Triple Chocolate Mosto Cotto Truffles.  They are, in one word, incredible.
Justin and his crew at Marx Foods has been so wonderful to me and recently sent me a bottle of the Amarena Cherry Mosto Cotto to play with.  Aside from just drinking it straight (which you probably shouldn't, even though you may want to) I have used it to top a Coconut Water Ice and have even made a decadent 3 layer Chocolate Bark appropriately named Marx Bark for the plethora of Marx Foods ingredients that graced its chocolaty deliciousness.  I think these super easy and ultra delicious truffles may just receive the Mosto Cotto crown of goodness though.
I think Justin and I both agree that this bottle of pure gold that is unknown to most, deserves to be gracing plates everywhere.  It's not just for sweet either.  The Mosto Cotto would be fantastic used in a savory pan sauce for chops or even over a beef roulade.  My next recipe is going to be a cocktail paired with Bacon Infused Bourbon.  There's no limit to its uses!  For now, though, let's go make some Truffles.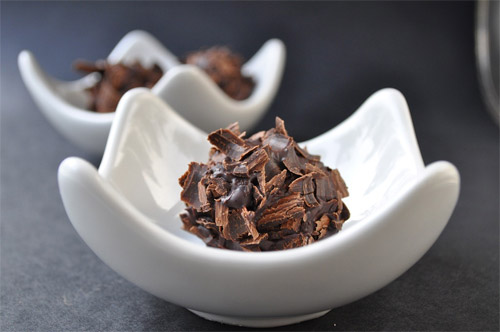 Triple Chocolate Mosto Cotto Truffles
Ingredients
2/3 cup heavy whipping cream
12 ounces dark chocolate, chopped (or chips)
2 tablespoons Amarena Cherry Mosto Cotto
Chocolate Truffle Coating
8 ounces dark chocolate, chopped
2 tablespoons Amarena Cherry Mosto Cotto
2 tablespoons water
Chocolate Shavings
6 ounces dark chocolate, room temp, shaved with vegetable peeler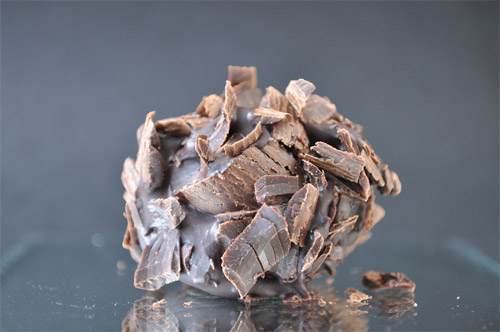 Directions
1. Bring cream just to a boil in a medium saucepan.  Remove from heat and add the 12 ounces of chopped chocolate and whisk to combine.  Whisk in the mosto cotto and pour into a medium bowl.  Cover with plastic wrap and refrigerate for 3-4 hours.
2. Using a small hinged scoop (or teaspoon) scoop out small balls of the cold chocolate mixture.  Roll between palms to form balls and place on a parchment lined baking sheet.  Repeat with remaining chocolate.  Place in the refrigerator for 1 hour.
3. In the top of a double boiler (or small glass bowl set over a small saucepan of simmering water) add the 8 ounces of chopped chocolate, mosto cotto and water and when the chocolate has started to melt, whisk to combine.  Don't stir before you see the chocolate melting.
4. Have a small bowl with the chocolate shavings ready.  Using a small wooden skewer, skewer one truffle and dip in the melted chocolate.  Tap the skewer on the side of the double boiler to remove excess chocolate and gently roll in the chocolate shavings.  Carefully remove the truffle back to the parchment lined baking sheet and repeat with the remaining truffles.  Eat immediately or chill until ready to serve.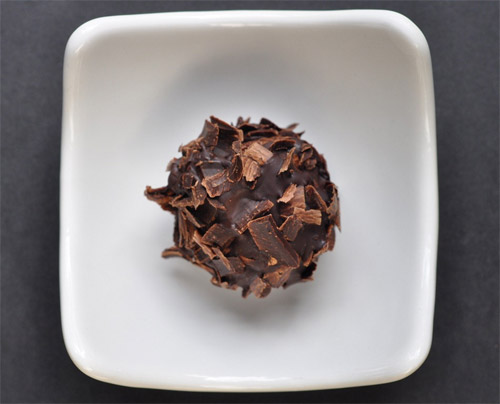 Makes 12-24 Truffles depending on size.
___________
Browse More:
Dessert Recipes on the Marx Foods blog