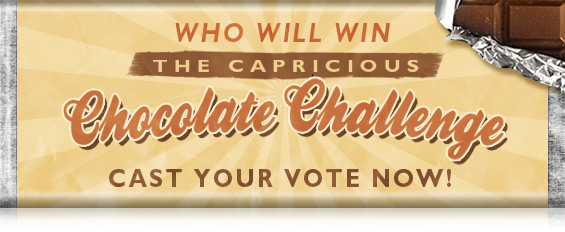 Our Capricious Chocolate Challenge was drool-worthy delicious. 10 bloggers created 10 amazing chocolate recipes using fennel pollen, coconut sugar, granulated candy cap mushrooms, vanilla beans and dried chilies.
The challenge was to create a chocolate recipe that was either spicy, savory or sweet. Some bloggers even made dishes that were all three! We saw everything from bread pudding to truffles to brownies to biscotti…we told you, drool-worthy. It's always good to be in the company of fellow chocoholics…
We know you'll enjoy all of the wonderful recipe submissions below.
Foodie: Spicy Dark Chocolate and Raspberry Napoleon
Hye Thyme Café: Chocolate Bread Pudding with Puya Chile Raspberry Sauce
Farmgirl Gourmet: Marx Bark
Cooking with Books: Coconut Chocolate Cake with Habanero Ganache & Fennel Pollen Tuile
Just Get Floury: Fennel Pollen Salted Caramel Chocolate Truffles
Edesia's Notebook: Spiced Hot Fudge Sauce
Cookistry: Browned Butter Brownies with Fennel Salt
Food Hunter's Guide to Cuisine: Double Chocolate Fennel Pollen Biscotti
Kernels and Seeds: Three Courses of Chocolate
Not Rachel Ray: Chocolate Pudding Trio
Like these recipes? Find even more ideas for fennel pollen recipes, granulated candy cap mushrooms recipes, vanilla bean recipes, dried chile recipes, and coconut sugar recipes.