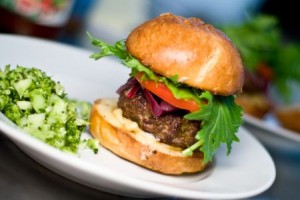 Best Burger Recipes
Thanks to you, we've collected a large collection of burger recipes. We had an awesome variety of burgers entered using ingredients ranging from bison burgers to black beans. Several ethnic recipes were entered including Indian, Thai, Italian and Himalayan burgers.
Thanks to everyone who submitted their creative burger recipes! We selected two recipes as the best of the bunch, and have reprinted them below:
Hoisin Ginger Burgers with Lime Pickled Onions
This highfalutin Asian burger loaded with garlic, ginger, cilantro, and hoisin sauce with mizuna, tomato, lime pickled red onions and Thai chili sauce all snuggled between a toasted brioche roll with melted gruyere. The Asian spices combined with the sweet hoisin sauce go well with the nutty gruyere, the pickles added some southeast Asian zing and the sweet Thai chili sauce makes the perfect substitute for ketchup.
This makes enough for 4 smaller burgers (perfect for a brioche roll), or 2 large 1/2 lb burgers. It took me about 45 minutes from start to finish but your mileage may vary.
for the patty:
1 lb of lean organic ground beef
1 green onion minced
2 cloves garlic minced
1 Tbsp minced cilantro
1 tsp minced ginger
1 Tbsp hoisin sauce
1 tsp sesame seed oil
1 tsp soy sauce
1/8 tsp ground white pepper
for the pickled onions:
1/2 red onion sliced into thin rings
1 tsp kosher salt
2 Tbsp water
juice from 1/2 a lime
for assembly:
brioche rolls (or other slightly sweet soft rolls)
sliced gruyere cheese
sliced tomato
mizuna greens
sweet Thai chili sauce
Combine the ingredients for the patty with your hand; be careful not to over mix it. Form the patties and stick them on parchment paper until you're ready to cook them.
For the pickles, just separate the onion into rings, cover with the salt and water and let it sit for about 15 minutes. When they're starting to wilt give them a little "massage" to until they're translucent. Squeeze out any excess water and dump out the brine. Return the onions to the bowl and squeeze half a lime onto the onions.
Grill/fry/broil the patty's to your desired level of done-ness and while the burgers are cooking, cut the rolls down the center and toss them in a toaster oven with a layer of gruyere on the bottom half of each bun.
To assemble, just spread a little Thai chili sauce on the top half of the toasted bun. Place a burger on the cheese half of each bun, top with pickled onions, tomato and mizuna then figure out how you're gonna fit it all in your mouth 🙂
Stuffed Caprese Sirloin Burgers with Roasted Garlic Aioli
Side dish: Roasted Summer Veggies

INGREDIENTS
Burgers (makes six)
3 pounds ground sirloin (80:20 meat-to-fat ratio)
2 tsp. sea salt
1 1/2 teaspoons freshly ground pepper
2 tsp. each, chopped fresh oregano and basil (buy a full bunch of basil and reserve at least 12 remaining full leaves to top the burgers — two for each burger)
3 cloves garlic, minced
1/2 cup finely diced white onion
3 ounces thinly sliced fresh mozzarella
2 medium-sized Campari tomatoes, sliced
Olive oil, for brushing
Buns
6 Focaccia burger buns
Roasted Garlic Aioli
1 large head garlic
2 tablespoons extra virgin olive oil
2 pasteurized egg yolks
1 raw clove garlic, minced
Juice of 1 small lemon
1/4 cup water
1/4 teaspoon salt
Pinch of ground cayenne pepper
1-1/2 cups extra virgin olive oil
INSTRUCTIONS
Making the burgers
Combine all burger ingredients except cheese and tomato slices in large bowl. Mix thoroughly, then shape into 6 thin patties. Put 1/2 ounce mozzarella on three patties. Top with remaining patties and press edges to tightly seal. If a bit misshapen, gently flatten until patties are about 4 1/2 inches in diameter. Refrigerate, covered, until cold, about one hour.
Making the aioli
To roast the garlic, preheat the oven to 300 F. Cut a thin slice off the very top of the head to expose the cloves. Set the garlic head in a shallow baking dish and pour the oil slowly over and into the head. Season with the salt and pepper. Cover the pan with aluminum foil and bake for 1-3/4 hours, until the garlic is very soft and tender. Don't rush; older garlic may take longer. Drain and reserve the oil, and set the garlic aside.
After the garlic is cool enough to handle, squeeze the pulp into a food processor or blender and add the egg yolks, minced raw garlic clove, lemon juice, water, salt, and cayenne pepper. Puree until smooth. With the motor running, add the reserved roasting oil and the additional 1-1/2 cups oil in a slow, steady stream and continue processing until emulsified. Refrigerate until needed.
Grilling the burgers
Preheat a gas grill to medium-high or prepare a charcoal grill. Brush burgers with olive oil and grill to desired doneness, flipping only once, about 3 to 4 minutes per side for medium-rare. To test for doneness, insert an instant-read meat thermometer through the side of a burger into the center. The internal temperature for medium rare is 145 F; 160 F for medium and 170 F for well done.
Serve burgers on buns with aioli, tomato slices and reserved basil leaves.

Roasted Summer Veggies
INGREDIENTS
1 cup thinly sliced yellow squash
1 cup thinly sliced zucchini
1 cup thinly sliced red and yellow peppers
1 Tbsp. olive oil
1/2 teaspoon paprika
1/2 teaspoon coarse sea salt
1/2 Tbsp. garlic powder
1/2 teaspoon ground cayenne pepper
Cooking Spray
INSTRUCTIONS
Preheat oven to 450 F.
Combine first 8 ingredients in a large, zip-top plastic bag. Seal bag; shake to coat squash.
Place squash on baking sheet coated with cooking spray. Bake for 20 minutes; turning after 10 minutes.
Serve alongside Stuffed Caprese Sirloin Burgers with Roasted Garlic Aioli.