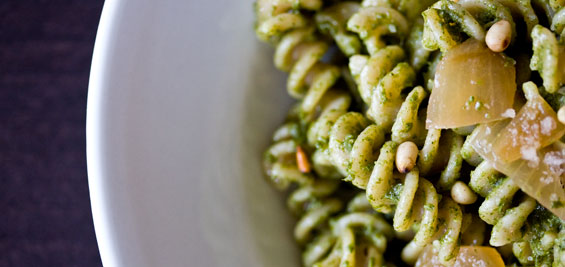 Stinging Nettle Pesto
When my wife tells me something is particularly healthy for her (nettles are apparently very healthy for women), you know that I am going to cook it for her … especially when it tastes this good. She isn't into cheese, so I subbed the parmigiano reggiano with some lemon and then some extra flor de sal to finish it.
The process is basically the same as making basil pesto, except that the nettles need to be blanched first. So, get a pot of boiling salted water going. Add the nettles and boil for about 90 seconds. Drain in a colander. (Caution: do not handle raw nettles with your bare hands because when they are uncooked they have a sting … cooking destroys the stinging agent).
I didn't feel like waiting for the nettles to cool down and I also wanted to squeeze the water out so that my pesto would be olive-oily, not watery. So, I ran cold water over the nettles and then squeezed most of the water out of them with my hands.
Stinging nettles can sometimes be stringy if they are put through a food processor whole, so it is good to rough chop them first.
Next, put the nettles in a food processor or blender and add minced garlic, pine nuts, salt, pepper, a 1/2 cup of olive oil and lemon juice (or parmesan cheese). Process or blend until you get the consistency you want. If it is too dry, just keep adding olive oil until you get a nice sauce. After you have a nice sauce, adjust your seasoning depending on your taste. Some people like it garlicky. Some like it salty or sour.
Here are the basic measurements that I used and are a good starting point to make enough for about 6 entrees:
1/2 lb. Stinging Nettles
2 cloves garlic
4 oz. pine nuts
1/2 teaspoon sea salt
1/2 teaspoon black pepper
juice of 3/4 of a lemon
If you are using parmesan, use parmigiano reggiano and go easy or not at all with the lemon. 1/4 cup of grated parmesan should be a good starting point.
You could also throw some butter-toasted shallots in there too, if you wanted.
And, maybe some flake sea salt to finish.

Finally…boil some pasta and toss it with the pesto. Or, you can embellish it with toasted pine nuts and caramelized onions (as I did for the photo above). Sauteed kale works well too. And, I'd bet that some chopped tomatoes would also be delish.
If you have left over nettles, you can make another batch or you can make some stinging nettle tea.

___________
Browse More:
Nettle Recipes
Pasta Sauce Recipes
Wild Produce Recipes