We recently sent out bottles of our new Butternut Squash Seed Oil and Delicata Squash Seed Oil to 6 bloggers for a review (which we of course made into a contest). The Marx Foods staff is going to read through all of the reviews and select one winner. But before we pick the winner, we want to hear your input! Leave a comment below with your thoughts, disagreements, endorsements, etc. and rally behind your favorite review.
Here are links to all of the blogs, the reviews & recipes:
Eats Well with Others – Grapefruit Cardamom Polenta Pancakes
Life, In Recipes – Butternut Seed Oil & Quinoa Cakes, and Butternut Seed Oil Dressing
Sugar and Spice – Butternut Squash Pizza w/ Pesto, Bacon, Goat Cheese & Butternut Seed Oil
For the Health of It – Marinated Tilapia with Lamb Squash Salad and Roasted Vegetables
Okay, Check it Out – Arikara Yellow Beans with a Warm Boiled Egg and Delicata Oil
Coconut & Lime – Smoked Trout & Cave-aged Gruyère Bites
Many of the bloggers thought both of the oils were best suited for use in salad dressings, and as finishing oils for pasta, appetizers, or drizzled on cooked veggies. Below is the summary of their thoughts.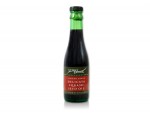 Delicata Squash Seed Oil
The tasters described this oil as rich, dark, nutty, with a rich flavor reminiscent of sesame seed oil, but with a little bit of a vegetal note that you don't generally find in seed oils. One blogger recommends using this oil in Asian cuisines because it complements soy sauce really well.
Suggested Uses:  in appetizers, as a finishing oil, in salad dressings, with vegetables as both cooking and drizzling oil, and with smoked fish & cheese.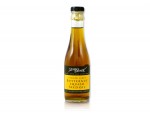 Butternut Squash Seed Oil
Tasters thought this oil was rich and nutty, with a hint of sweetness. Some said it reminded them of a toasted nut oil (like walnut or hazelnut), or even a mild sesame oil. The oil was described as mellow & buttery with a strong nutty aroma. One blogger wrote that the oil loses a lot of its flavor in the cooking process, but a few other bloggers loved cooking with it…there seems to be some room for debate here!
Suggested Uses: pizza dough, pancakes, paired with seafood and roasted vegetables, raw applications, and in dressings for salads, pastas and/or dips.
The blogger with the most honest, thorough and useful product review will receive their choice of a six-pound box of either butternut squash ravioli or pumpkin & sage ravioli.  We're going to name the lucky blogger around 3/7.