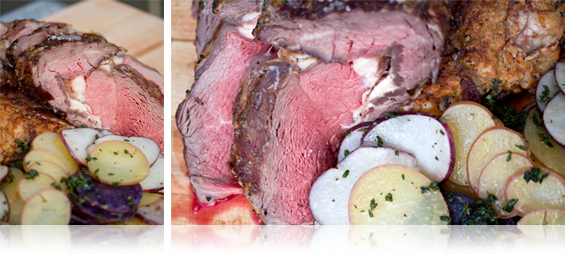 Slow-Roasted Grass-Fed Beef Ribeye
Incredibly easy, incredibly delicious. The ribeye is one of the most flavorful roast/steak cuts and preparing it simply with salt & pepper is the best way to appreciate its natural deliciousness. This same technique can be used for other roasting cuts, like whole top sirloins and whole striploins.
We've used two different sizes of sea salt here, but you could easily substitute fine ground sea salt or kosher salt.
Drink Pairing: Old Vine Zinfandel
Ingredients: Makes 6-8 Servings
3 Rib or 4-5lbs Grass-Fed Ribeye Roast (boneless or bone-in)
2 tbsp Coarse Sea Salt
2 tsp Medium Sea Salt
Freshly Ground Black Pepper to Taste
Recommended Side:
Sous Vide Duck Fat Potatoes
Directions:
1. Optional But Recommended: Dry age the roast for four days (How to Dry Age at Home).
2. Remove the roast from your refrigerator an hour before you plan on cooking it, so it can come to room temperature.
3. Preheat your oven to 250 degrees.
4. Dry off the surface of the roast & rub it with the sea salts & ground black pepper.
5. Place the roast on a rack above a roasting pan.
6. Roast the ribeye to an internal temperature of 120 degrees (for a medium rare finished roast, cook longer if you prefer yours more well done). Remove it from the oven & let it rest for 20 minutes.
7. Return the roast to the oven and broil it to develop a crust. Slice & serve.

____________
Browse More:
Grass-Fed Beef Recipes
Roast Recipes