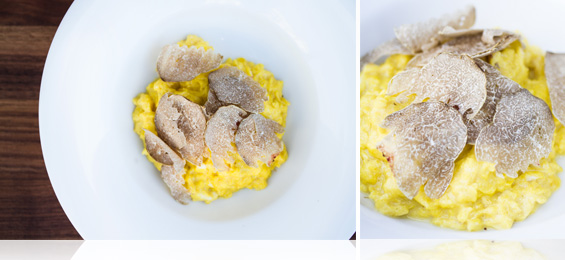 Soft Scrambled Eggs w/ White Alba Truffle
Simple yet divine. There really isn't more to be said.
For a more affordable version of this dish, you can substitute white Oregon truffles for the Albas or omit the fresh truffles and substitute truffle saltfor the plain salt.
Drink Pairing: White Burgundy Wine
Ingredients: Make 4 Servings
2 tbsp Unsalted Butter
6 Eggs, Cracked & Scrambled
1 tbsp Heavy Cream White Alba Truffles
Salt to Taste
Directions:

1. Melt the butter in a cast iron skillet over medium-high heat, then turn the heat down to low.
2. Add the eggs. Cook them over low heat, stirring constantly until they form small, soft, custardy curds that are still wet.
3. Add salt to taste & stir in the heavy cream.
4. Put the eggs on plates or in bowls.
5. Shave Alba truffles over each serving to taste. Serve.

___________
Browse More:
Fresh Truffle Recipes
Egg Recipes