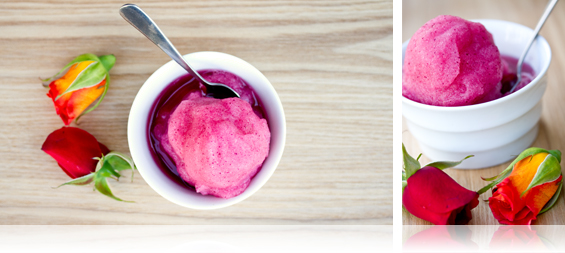 Rose Sorbet
This sorbet features the color and flavor of edible roses. It's pretty intense, so we recommend serving it in small quantities.
Ingredients: Makes a little under 1 quart
1 cup Rose Paste Recipe
3 1/4 cups Water
1 tsp Rose Water
1 tsp Lemon Juice
1 cup Superfine Sugar
Directions:
1. Stir together all the ingredients in a large pot on the stove, gently heating just until all the sugar is dissolved.
2. Pour through a mesh strainer to strain out most of the flower petal pieces.

3. Optional (but highly recommended): chill the base thoroughly before churning (will result in a smoother texture).
4. Churn in your ice cream machine according to the manufacturer's instructions.
5. Immediately move the sorbet to a container in your freezer to harden. Freeze for several hours before serving.
For best quality, store the sorbet with a sheet of plastic wrap pressed down to the surface in a covered container and enjoy it within a few days.

___________
Browse More:
Edible Flower Recipes
Ice Cream & Sorbet Recipes