Smoky Striploin Steak and Rhubarb Salad
The smoky and naturally juicy flavors of this special grass-fed striploin from New Zealand pair wonderfully with the sweet and tangy flavors of the rhubarb and orange-ginger dressing in this delicious steak salad with Asian flare. Baby arugula adds a touch of nuttiness and fried wonton strips add a nice crunchy texture contrast to the salad.
Ingredients: (2 main course servings, 4-6 appetizer servings)
Orange-Ginger Dressing
1/2 cup orange juice
1/4 cup red wine vinegar
1 tablespoon soy sauce
1 teaspoon ginger, grated
2 tablespoons extra virgin olive oil
Salt, pepper to taste
Rhubarb
1 large stalk rhubarb
1/4 cup sugar
water
Caramelized Vidalia Onions
1/2 medium Vidalia onion, thinly sliced
1 tablespoon sugar
1-2 tablespoons butter
Striploin Steak
1 large grass fed striploin steak, about 1 inch thick
1 tablespoon liquid smoke
salt, pepper
To Assemble
4-5 wonton skins
Vegetable or corn oil
Baby arugula
1/2 mango, thinly sliced
2 tablespoons mint, chopped
Directions:
Orange-Ginger Dressing
1. In a small saucepan, combine orange juice, vinegar, soy sauce, and ginger.
2. Bring to boil and simmer until reduced by about a third.
3. Cool to a room temperature, then whisk in extra virgin olive oil and season with salt and pepper.
Rhubarb
1. Slice rhubarb into thin slices, about 1/4 of an inch thick.
2. Place into a saucepan with sugar, and pour water over, just until it covers the rhubarb.
3. Bring to boil then simmer just until the rhubarb is tender but still crisp. Drain.
Caramelized Vidalia Onions
1. Melt butter in a skillet.
2. Add onions and sugar and saute on low heat, stirring occasionally, until the onions are very soft, for about 15-20 minutes.
Striploin Steak
1. Brush the steak with liquid smoke on both sides and season with salt and pepper. Let it stand for a few minutes to absorb the liquid smoke while the grill is pre-heating.
2. Grill for about 5-6 minutes per side for medium-rare. Let the steak rest for 5 minutes, then cut into thin slices.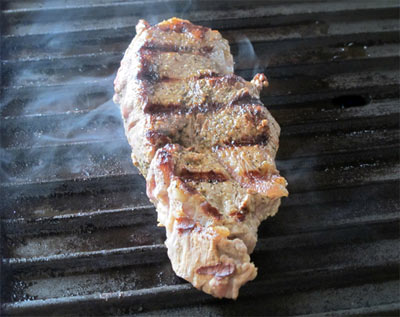 To Assemble
1. Cut wonton skins into thin strips and fry in oil until golden.
2. On each plate, arrange baby arugula, topped by mango slices, caramelized Vidalia onions, rhubarb, striploin steak slices and mint.
3. Spoon the orange-ginger dressing over the salad, then top with fried wonton strips.
Recipe Development & Photography by Natasha Price, 5 Star Foodie
___________
Browse More:
Grass-Fed beef Recipes
Steak Recipes