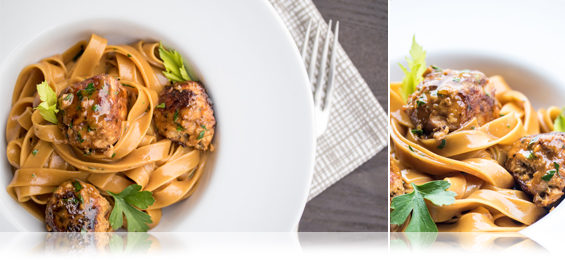 Rabbit Meatballs with Porcini Tagliatelle
This dish is packed with the savory earthiness of wild porcini mushrooms.  The rabbit kidneys really add a lot of flavor to the meatballs, but you could leave them out.
Wine Pairing: Nebbiolo or Red Burgundy
Ingredients:                Makes Servings
1 package (8.8oz) Morelli Porcini Mushroom Tagliatelle
¼ cup of Heavy Cream
Leftover Braising Liquid from Porcini Braised Rabbit Legs
2 tbsp minced Flat Leaf Parsley, plus extra (if desired) for garnish
1 tsp Lemon Juice
Meatballs:
8 Porcini Braised Rabbit Legs (one recipe)
4 Rabbit Kidneys (from Whole Rabbits), minced
1 1/2oz Dried Porcinis, rehydrated & finely minced
1 cup Panko Bread Crumbs
1 Egg Yolk
2 Eggs
3 tbsp Mayonnaise
1 tbsp Canola Oil
1 tbsp Unsalted Butter
½ cup minced Onion, caramelized
1 tsp minced Fresh Thyme
1 tsp Lemon Juice
Salt to Taste
Directions:
Pull the meat off of the rabbit legs, then shred & finely mince it.
Mix all the meatball ingredients together in a large bowl. 
Make one small meatball and cook it in an oiled frying pan to taste for salt.  Add additional salt to the mixture if necessary.
Simmer the porcini braising liquid down until it's about a cup in volume.
Bring a pot of salted water to a boil.
Sear the meatballs into a hot, oiled skillet until well browned.
Reduce the heat under the pan to low and add the reduced braising liquid & cream to the meatballs.  Bring the liquid to a simmer, then remove it from the heat. Periodically baste the meatballs while waiting for the pasta, to help keep them from drying out.
Boil the pasta until on the tougher side of al dente.
Use tongs to remove the pasta from the water, then add it to the skillet with the meatballs.
Add the parsley & gently toss the skillet's contents to coat, taking care not to break the meatballs.  Squeeze in the remaining lemon juice & toss again.
Serve, sprinkled with additional parsley if desired.
__________
Browse More:
Rabbit Recipes
Pasta Recipes
Porcini Mushroom Recipes