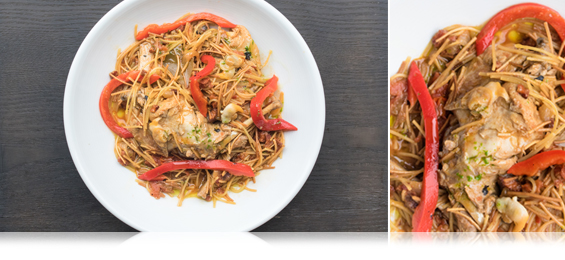 Spanish Fideos with Rabbit, Cockles and Chorizo
Fideos is a bit like a pasta version of paella.  This one is made with braised rabbit, spiced Spanish chorizo sausage, and delicate cockles.  If you can't find authentic Spanish fideos noodles, you can substitute vermicelli broken into short lengths (as we have here).
Wine Pairing: Garnacha
Ingredients:                       Makes 4-6 Servings
2 tbsp Olive Oil
1 Onion, chopped
2 Bay Leaves
1/3 cup Small Diced Spanish Chorizo
4 Rabbit Hind Leg Quarters
½ cup White Wine
4 Fire Roasted Tomatoes (canned is ok)
½ tsp Chile Flakes
1 pack Aneto Low Sodium Chicken Broth
½ tsp Smoked Paprika
½ box Dried Vermicelli, broken into ½" pieces.
1 tin Spanish Cockles, drained
1 tsp Gran Reserva Sherry Vinegar
1 Roasted Red Pepper, cut into strips
Parsley Oil Recipe
Fine Extra Virgin Olive Oil (we used First Day Arbequina EVOO)
Directions:
Put the 2 tbsp of olive oil in the bottom of a deep stockpot. Add the onion & bay leaves, then saute over medium high heat for five minutes.
Add the chorizo & continue to cook for ten minutes.
Add the rabbit hind legs & continue to cook until the rabbit has browned.
Add the white wine, half of the chicken broth, smoked paprika & the tomatoes. Break up the tomatoes with your spoon.
Bring the liquid to a boil, reduce the heat to a simmer & cook (uncovered), until the rabbit is tender.
Toast the vermicelli in a dry skillet over medium-high heat, stirring constantly, until browned.
When the rabbit is tender, add the noodles with enough chicken broth to cover. Let the liquid simmer for ten minutes.
Once the pasta has cooked, add the drained cockles to the pot. Remove the pot from the heat.
Stir in the sherry vinegar. Move the fideo to serving bowls (making sure each serving gets a rabbit leg).
Garnish each bowl with strips of roasted pepper & drizzles of the parsley & extra virgin olive oils.
__________
Browse More:
Rabbit Recipes
Tinned Fish Recipes
Pasta Recipes