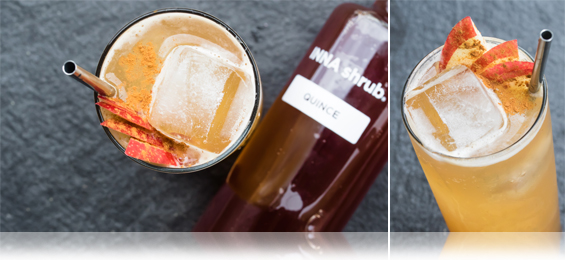 Bourbon Quince Shrub Cocktail
Like fall in a glass, this cocktail blends smooth bourbon with a fruity, honeyed & tangy quince shrub, apple & cinnamon.
Ingredients:                  Makes 1 Cocktail
1 3/4oz Bourbon (we used Bulliet)
1oz Unfiltered Apple Cider
1/2oz Quince Shrub
1/4oz Lemon Juice
2 dashes Scrappy's Orleans Bitters or Cinnamon Bitters
Soda Water

Garnish: Very Thin Apple Slices & Ground Cinnamon
Directions:
Combine the bourbon, apple cider, quince shrub, lemon juice & bitters in a mixing tin with plenty of ice.
Shake to chill & combine.
Double-strain into a tall, thin (Collins) glass over fresh ice.
Top with soda water.
Insert a straw.
Sprinkle the apple slices with cinnamon, fan them & lean them against the straw in the mouth of the glass.

Recipe by Laura Bishop
____________
Browse More:
Cocktail & Beverage Recipes
Shrub & Drinking Vinegar Recipes
Bitters Recipes