Purple Rice Pudding w/ Mango & Coconut
Makes 6-8 Servings
WINE PAIRING
Off-dry Gewürztraminer Wine
Toasty, creamy, sweet, salty, nutty, fruity, tart – this Thai-inspired dessert is full of different flavors and textures. It's a particularly nice finish to a meal featuring Southeast Asian flavors.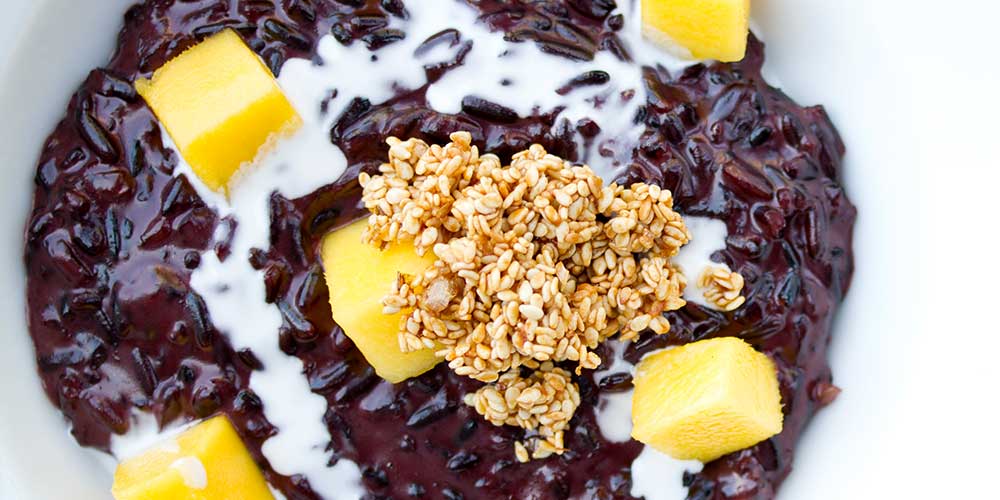 INGREDIENTS
Sesame "Granola" Topping:

2 tbsp White Sesame Seeds

1 tbsp Coconut Sugar

½ tsp Salt
DIRECTIONS
1
Don't shake the can of coconut milk. Open it and carefully skim off the thickened cream on the top. Reserve the cream for garnishing.
2
Drain the water off the soaked rice.
3
In a deep pot combine the coconut milk, water, coconut sugar, salt, rice and fish sauce. Bring the mixture to a boil, then reduce the heat to a simmer.
Cover the pot and let the rice simmer until tender (but still has a bit of a pop/snap to its texture – approx. 30 mins).
4
Make the Sesame Topping: While the rice is cooking, toast the sesame seeds in a dry pan over medium low heat, stirring frequently, until lightly browned and aromatic.
Remove the pan from the heat & add the coconut sugar and ½ tsp of salt. Stir to combine.
5
Remove the lid from the rice, and continue to simmer, stirring, until the broth reduces (approx. 20 minutes) and the mixture has a porridge-esque consistency.
6
Serve the rice topped with the cubed mango, sesame granola, and reserved coconut cream.