Pumpkin Whoopie Pies with Pistachio Cream
Italian pistachio cream sandwiched between fluffy pumpkin cookies & rolled in chopped pistachios. Yum!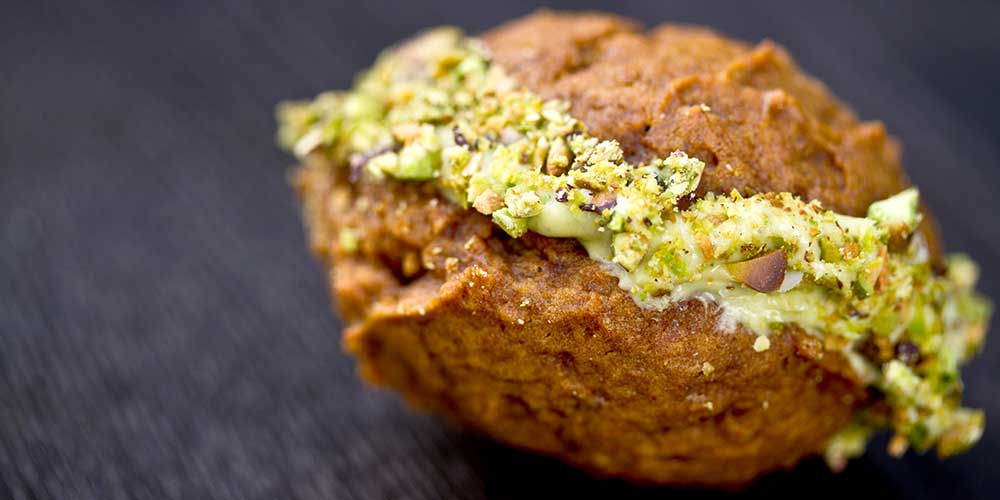 INGREDIENTS
1 ½ cup All Purpose Flour

½ tsp Salt

½ tsp Baking Powder

½ tsp Baking Soda

1 tbsp Ground Cinnamon

½ tbsp Ground Ginger

½ tbsp Ground Cloves

1 cup Dark Brown Sugar

½ cup Vegetable Oil

½ tsp Bourbon Vanilla Extract

¼ cup Shelled Unsalted Pistachios

1 large Egg

1 ½ cup Pumpkin Puree, chilled (we use Farmer's Market Brand Organic Pumpkin)

1 jar Pistachio Cream
DIRECTIONS
1
Optional: If using a different brand of pumpkin puree or homemade pumpkin puree, put the puree in a strainer over a bowl for an hour before you make this recipe to drain out any excess moisture.
2
Preheat your oven to 350 degrees.
3
In a large bowl whisk together the flour, salt, baking powder, baking soda, cinnamon, ginger and cloves.
4
In a separate bowl, whisk together the brown sugar and vegetable oil. Add the vanilla extract, egg and pumpkin. Vigorously stir them together until there aren't any lumps.
5
Add the dry ingredients (flour mixture) to the bowl with the pumpkin. Stir to combine.
6
Cover a baking sheet with a piece of parchment paper.
7
Scoop the dough on to the parchment paper (small or large blobs as you prefer, just try to make them all the same size).
8
Bake
the cookies until their tops start to crack and the bottoms have browned (about 15-20 mins).
9
Move them to a baking rack to cool.
10
Toast the pistachios in a dry pan on the stove until fragrant. Finely mince them or grind them in a spice grinder.
11
Whip the pistachio cream with a spoon until nice and fluffy.
12
Load the cream into a piping bag (or into a zip top bag & clip off a corner). Pipe it onto the bottoms of half the pumpkin cookies and top it with another cookie (to create a sandwich).
Alternatively, simply spoon 1 tbsp between each pair of cookies.
13
Gently squeeze the cookies together to push the pistachio cream out the sides slightly.
14
Roll each whoopie pie in the minced pistachios to adhere them to the cream.