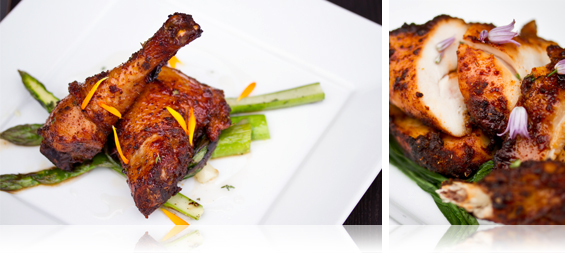 Spiced Poulet Rouge Chicken with Honey–Vinegar Glaze
Spicy, savory, sweet, smoky – this chicken recipe is week-night-easy and any-night delicious.
Recommended Side: Broiled Ramps & Asparagus Recipe
Drink Pairing: Pinot Gris
Ingredients: Makes 4 Servings
1 Poulet Rouge Chicken
Spice Blend:
1 tsp Fennel Pollen
1 tbsp Chile Powder
1 tbsp Ground Cumin
2 tsp Smoked Paprika
2 tsp Garlic Powder
1 tbsp Kosher Salt
Glaze
1 cup Acacia Honey
½ cup Apple Cider Vinegar
2 tbsp fresh Thyme leaves, chopped
Directions:
1. Cut the chicken into six pieces – breasts, thighs & drumsticks (you can throw in the wings if desired). Leave the skin on.
See How to Cut Up Poultry for technique tips.
2. Stir all the spice blend ingredients together.
3. Toss the chicken in the spice blend to coat. Move to a covered bowl and put in the refrigerator for four hours to overnight.
4. Lay the chicken pieces out on a parchment paper or foil-lined baking pan, skin-side up (you can omit the parchment or foil…but it'll be a lot harder to clean). Place the pieces so they aren't touching.
5. In a bowl stir together the honey, thyme and apple cider vinegar.
6. Glaze the chicken with the honey, thyme and vinegar mixture. Broil in the oven.
7. After broiling for four minutes, turn the chicken pieces over and brush the other side with the glaze. Continue to broil – flipping & glazing every four minutes – until the pieces are cooked through.
They're finished when the dark meat reaches an internal temperature of 165 and the breasts are at 160 degrees (they'll carry over cook the rest of the way).
Note: If you use parchment paper, the paper may char…that's ok.
8. Serve.

___________
Browse More:
Heritage Chicken Recipes
Fennel Pollen Recipes
Honey Recipes