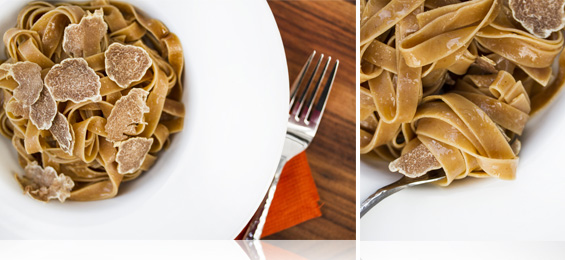 Porcini Pasta w/ Alba Truffles
When you're working with white Alba truffles, one of the world's most amazing ingredients, a dish doesn't have to be complicated to be amazing. Here we've paired them with porcini pasta and parmigiano reggiano cheese to further emphasize their intensely delicious savory qualities.
You could also substitute white Oregon truffles, truffle butter, or truffle oil for the alba truffles.
Drink Pairing: Nebbiolo Wine
Ingredients: Makes 2-3 Servings
8.8 oz Morelli Porcini Tagliatelle (could substitute other artisanal pastas)
2/3 cup grated Parmigiano Reggiano Cheese, plus extra to garnish
2 tbsp Unsalted Butter
1 tbsp Fine Olive Oil (we used Desert Miracle Olive Oil)
Small Squeeze of Lemon Juice
White Alba Truffles
Salt
Directions:

1. Cook the pasta in boiling salted water until al dente (7 minutes if using the Morelli porcini pasta).
2. Drain the pasta and toss it in a bowl with the butter, olive oil, lemon juice, and parmesan cheese.
3. Add salt to taste.
4. Put the pasta in bowls, then shave the truffles over it. Serve.

___________
Browse More:
Fresh Truffle Recipes
Pasta & Pasta Sauce Recipes