Veal Medallions w/ Braised Escarole, Fingerling Potatoes & Porcini-Shallot Vinaigrette
Makes 4 Servings
WINE PAIRING
Nebbiolo
Grass-fed veal tenderloin makes superb medallions that are mild and exquisitely tender. Here they're served with roasted fingerling potatoes, braised escarole & a porcini vinaigrette.
The vinaigrette recipe is adapted from Chef Becky Selengut's cookbook Shroom.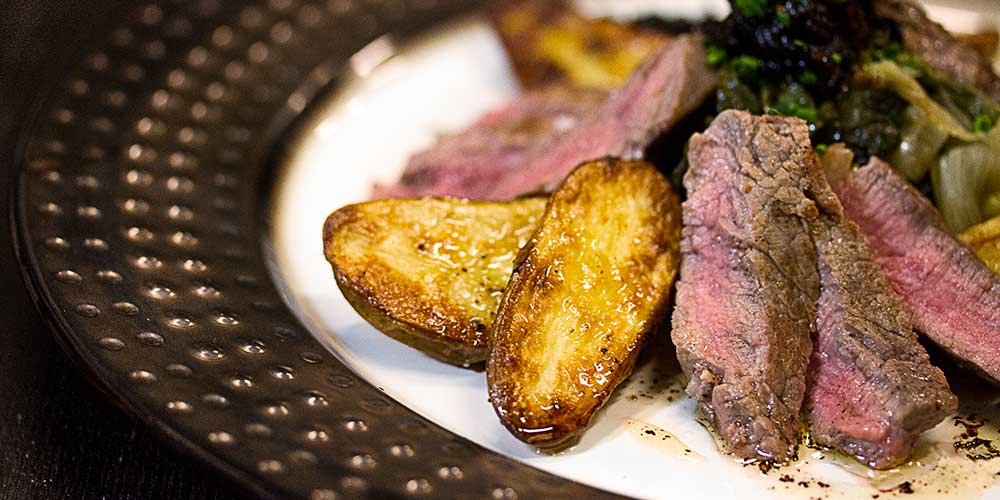 INGREDIENTS
Braised Escarole:

1 head Escarole

1 tbsp White Wine Vinegar

1 tsp Honey

2 tbsp Olive Oil

Juice of ¼ Lemon
Caramelized Porcini & Shallot Vinaigrette:

1/4 cup Extra-Virgin Olive Oil

1/2 tsp Fine Sea Salt or Smoked Salt

1/4 tsp Red Pepper Flakes

1/4 tsp Honey

1 tbsp thinly sliced Shallot

1 tsp Porcini Powder (how to make porcini powder)
1 tbsp Balsamic Vinegar (we used the Special Edition Balsamic)

Ground Pepper
DIRECTIONS
1a
Put the olive oil in a sauté pan and get it hot over medium heat.
1b
Add red pepper flakes, salt, honey, porcini powder, sliced shallot and black pepper to taste. Cook, stirring frequently, until the shallot is well browned (approx. 7-10 minutes).
1c
Transfer to a small jar and add the balsamic vinegar. Put the lid on the jar and shake to combine.
2
Preheat your oven (ideally convection) to 400˚F.
3
Cut the fingerlings in half, lengthwise. Toss them in oil, salt & pepper.
4
Place the potatoes on parchment paper on a baking sheet, cut-side down. Cover them with foil, then roast them in the oven until tender (approx. 20 minutes).
5
Cut the core out of the escarole & chop the remainder into bite-sized pieces.
6
Cook the escarole in a pan with the olive oil, honey and white wine vinegar until it has wilted down.
7
Slice the tenderloin into medallions that are a little under an inch thick. Season them with salt & pepper.
8
Sear the medallions in a hot oiled pan, about two minutes per side, until they're medium rare (or your desired doneness).
9
Serve the medallions with the escarole, drizzled with the vinaigrette.