Lamb Spirals w/ Fennel & Pinot Noir Sauce
Makes 4 Servings
WINE PAIRING
Merlot
Playful, exquisitely tender, and very tasty, these tenderloin spirals are sauced with a decadent butter-enriched reduction of beef stock and an entire bottle of pinot noir wine. The anise flavor of the fennel helps keep the dish from becoming too heavy on the palate.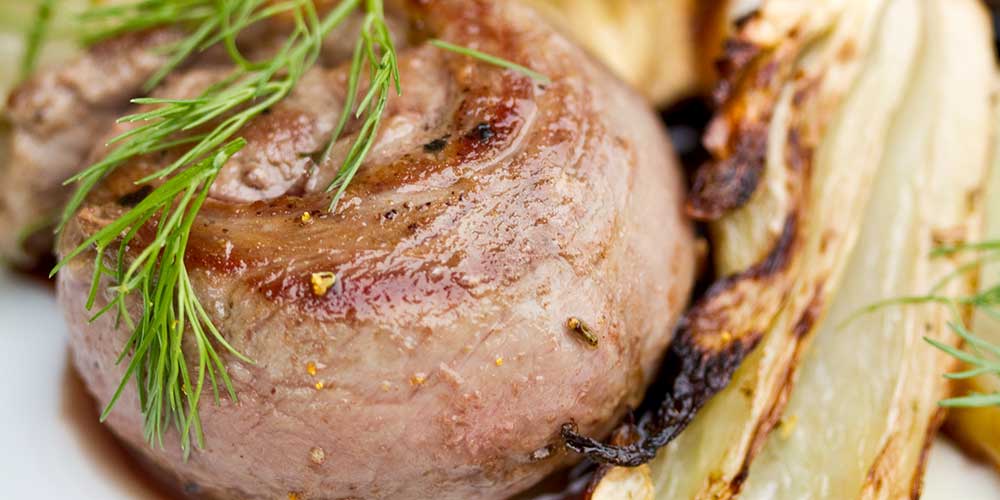 INGREDIENTS
2/3 cup Beef Stock

Fennel Pollen & Fennel Fronds for Garnish
Roasted Fennel Bulb:

1 Whole Fennel Bulb, cut into 12 chunks

1 tsp Olive Oil

1 pinch Wild Sicilian Fennel Seeds (could substitute plain fennel seed)

½ tsp Balsamic Vinegar

Salt & Pepper
Wine Reduction Sauce:

1 bottle Pinor Noir Wine

1 quart Beef Stock

8 Black Peppercorns

1 Bay Leaf

1 large Shallot, chopped

1 stick Unsalted Butter
DIRECTIONS
1
Preheat your oven to 375˚F.
2
Pour the whole bottle of pinot noir and the quart of beef stock into a pot on the stove. Add the bay leaf, chopped shallot and peppercorns. Bring the mixture to a simmer and cook until it has reduced to a ½ cup.
3
Lay the fennel bulb pieces out on parchment paper on a baking sheet. Drizzle them with the olive oil and balsamic vinegar. Sprinkle the salt, pepper and fennel seeds over them. Roast them until tender.
4
Trim the lumps of meat off the end of the tenderloins. (You can sauté those on the side for a snack.)
5
Salt and pepper the tenderloins, then curl them into spirals. Secure each spiral with a toothpick.
6
Get an oiled pan hot over medium-high heat. Briefly sear the spirals until they develop a crust on the bottom, then flip them, add the 2/3 cup of beef stock, and reduce the heat to medium low.
Cook the spirals until they reach an internal temperature of 110˚F (for medium rare).
7
Move the spirals to a plate to rest (loosely covered). Continue to cook the beef stock to thicken it, then strain a tablespoon of it into the wine reduction.
8
Cut the stick of butter into tablespoon pats. Heat the wine reduction over low heat, and add the butter one pat at a time while whisking constantly. Only add more butter after the previous pat has been incorporated.
9
When all the butter is mixed into the sauce, spread a layer of it on each plate. Remove the toothpicks from the spirals and plate them atop the sauce. Intersperse pieces of the roasted fennel bulb between them.
10
Garnish the plates with fennel fronds and fennel pollen. Serve.