Makes 4 Servings
DRINK PAIRING
Vietnamese Beer
Get a lot of servings from only a little bit of lamb using this delicious Vietnamese-inspired sandwich recipe. Each bite will give you a blend of crispy, tangy pickled vegetables, spice from the jalapeno, and tender, delicious meat.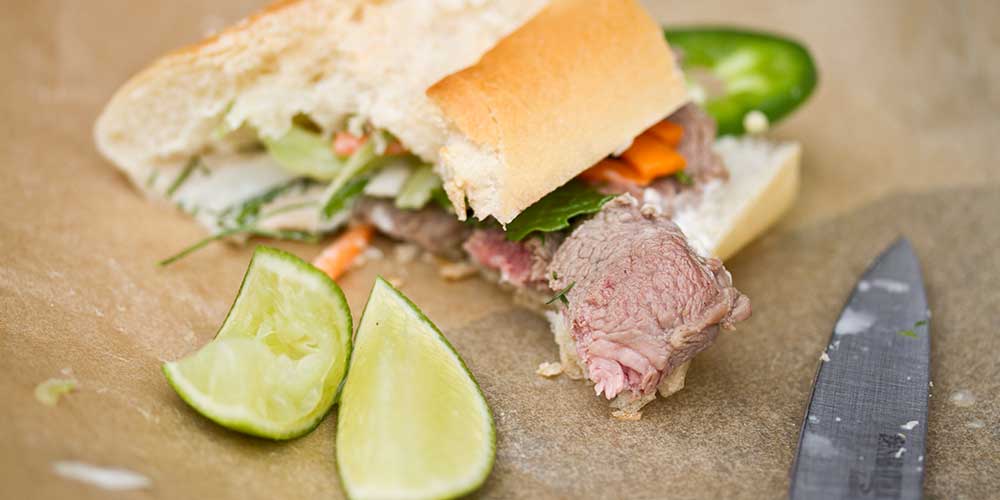 INGREDIENTS
4 Small Baguettes (batard-size)
14 oz Lamb Leg Fillet Roasts

½ large Fennel Bulb (approx. 1 cup)

1 medium Carrot

½ English Cucumber

½ cup Seasoned Rice Wine Vinegar

1 medium Fresh Jalapeno, sliced thinly on the bias

2 tsp Red Boat Fish Sauce

2 tsp Lime Juice, freshly squeezed

½ cup mayonnaise

1 small clove of Garlic, finely minced

½ cup (loosely packed) Fresh Mint

1 tbsp Peanut Oil

Optional:

Fennel Fronds
DIRECTIONS
1
Optional: Remove the seeds and inner membrane from the jalapeno to make it less spicy.
2
Slice the jalapeno thinly on the bias. Peel the carrot, cucumber and fennel bulb, then slice them into thin strips (julienne).
3
Combine the cucumber, carrot, fennel bulb and vinegar in a bowl. Toss and let sit for a half hour.
4
Butterfly the leg fillet roast(s) by cutting into the center and folding the meat open. Trim out any silver skin you find (
how to remove silver skin
).
5
Thinly slice the roast(s) against the grain.
6
Put the sliced lamb in a bowl. Add the fish sauce, lime juice and a pinch of salt. Let it marinate for thirty minutes.
7
Cut the baguettes in half (for a sandwich) and dig some of the dough out of the center to make a trough shape in each half.
8
Scrape the minced garlic with your knife to turn it into a paste. Mix together the mayonnaise & garlic.
9
Quickly stir fry the lamb strips in the peanut oil over high heat.
10
Spreading the garlic mayonnaise on both sides of each baguette. Fill them with the pickled vegetables, lamb and (if desired) fennel fronds.
11
Serve the sandwiches with lime wedges on the side.