Merino Eye of Rounds w/ Dijon Panko Crust
Makes 4 Servings
WINE PAIRING
Amarone
The eye of round is one of the more tender cuts from the lamb leg. It is best cooked quickly. Here we've treated it similarly to a lamb rack, crusting it with dijon mustard and herbed bread crumbs.
This dish is playful and delightfully savory.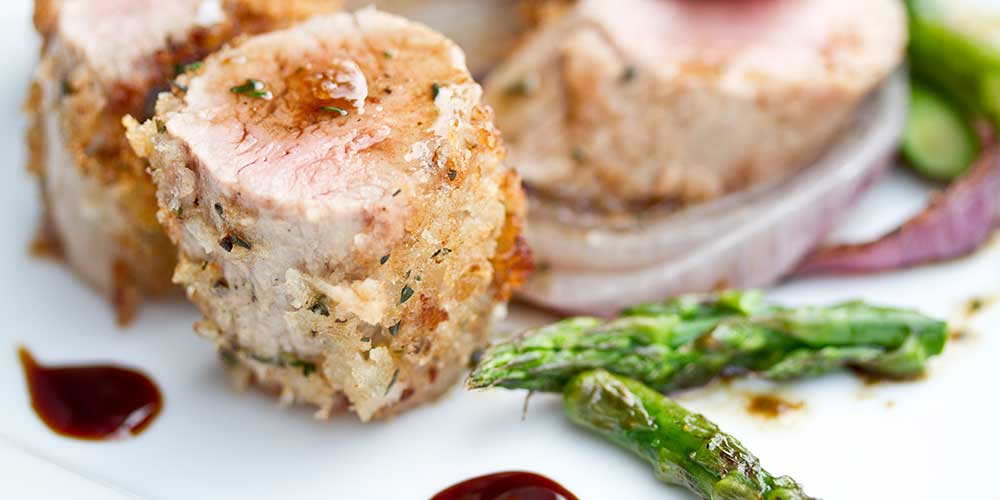 INGREDIENTS
8 Lamb Eye of Rounds (approx. 3oz each)

2/3 cup Panko Bread Crumbs

3 tsp finely chopped Fresh Thyme

Four ½" thick Slices of Red Onion

2 tbsp Dijon Mustard

1 ½ tbsp Balsamic Vinegar

1 bunch Asparagus

2 tbsp Grapeseed Oil

1/2 cup Beef Stock

2 tbsp Brandy

Oro Nero Balsamic Vinegar for finishing

1 ½ tbsp Olive Oil, plus extra for roasting the onions

Salt & Pepper
DIRECTIONS
1
Preheat your oven to 400˚F.
2
Put the onion slices in an oven-safe frying pan or on a cookie sheet. Drizzle them with olive oil and season with salt & pepper.
3
Roast the onion slices until the bottoms start to caramelize, then flip them and continue to roast. Remove them from the oven when both sides are caramelized (approx. 25-30 minutes).
4
Grill, roast, or steam the asparagus until done the way you like it.
5
In a small bowl mix together the panko bread crumbs and 2 teaspoons of the chopped thyme. In a separate bowl mix together the mustard and plain balsamic.
6
Season the eye of rounds with salt & pepper. Brush them with the mustard-balsamic mixture, then roll them in the herbed breadcrumbs.
7
Turn the oven down to 375˚F.
8
Oil a cast iron skillet or frying pan with the grapeseed oil, then get it hot over medium heat. Add the breaded eye of rounds and cook until the breadcrumbs on the bottom are browned.
9
Gently flip the meat & move the pan to the oven. Roast until the lamb reaches an internal temperature of 110˚F. then remove them from the heat to a covered plate to rest.
10
Remove the merino from the oven and put it on a clean plate to rest, covered, for ten minutes.
11
Deglaze the lamb pan with the beef stock and brandy. Add the remaining teaspoon of thyme. Bring the mixture to a simmer on the stove and continue to cook, scraping the bottom of the pan, until it's reduced by half.
12
Put the onion disks on plates with the asparagus. Drizzle each plate with a few drops of oro nero vinegar.
13
Slice the eye of rounds into 1" thick rounds. Turn them so the cut side is up and place them on top of the onion disks.
14
Once the sauce has reduced, stir in the 1 ½ tbsp of olive oil and salt to taste. Drizzle about 1 tbsp of sauce over each plate & serve.