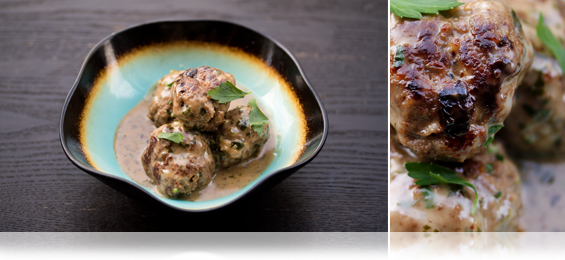 Kangaroo Swedish Meatballs with Gravy
Kangaroo is a flavorful, healthy meat that also happens to be extremely lean.  That means it's a great choice for recipes that naturally include extra fat & bread to keep moist, like Swedish meatballs!
We've snuck red wine vinegar, red currant jelly, and luxardo maraschino liqueur into the gravy to balance its richness and impart game-meat friendly fruity notes.  The resulting dish has the comforting gravy & smooth texture you love, but with more personality than traditional Swedish meatballs.
Wine Pairing: California Chardonnay
Ingredients:                                               Makes 4+ Servings
Meatballs:
2 slices White Bread
¼ cup Whole Milk
2 Egg Yolks
1 tbsp Unsalted Butter
½ cup finely chopped Red Onion
2 tbsp Dry White Wine or Vermouth
½ tsp ground Black Pepper
1 tsp Kosher Salt
2 tbsp Mayonnaise (we used Best Foods)
1lb Ground Kangaroo Meat
2 tbsp Panko Bread Crumbs
Gravy:
2 tbsp Olive Oil
¼ cup All Purpose Flour
3 cups Low Sodium Beef Stock
1 cup Heavy Cream
2 tsp Luxardo Maraschino Liqueur
1 tsp Red Wine Vinegar
1 tbsp Red Currant Jelly
¼ cup minced Flat Leaf Parsley Leaves
Plus: Pickled Red Onions
Directions:
Prepare the Meatballs:
Tear the bread slices into pieces & mix them with the milk. Add the egg yolks, salt & black pepper.
Melt the butter in a wide frying pan. Add the red onion & saute it until it softens.
Deglaze the pan with the white wine/vermouth. Bring the liquid so a simmer and cook until the pan looks dry.
Remove the onion from the pan to a separate bowl.
Use a stand mixer to beat together the bread/milk/egg mixture, the cooked onion, the kangaroo meat, and the panko.
Form the mixture 1 ½" thick meatballs.
Coat the bottom of a pan with vegetable oil. Brown the meatballs on all sides in the oil over Medium High heat until they're cooked through.
Move the meatballs to a clean plate while you construct the gravy in the pan.
Make the Gravy:
Add the two tablespoons of olive oil to the residual fat in the pan. Sprinkle in the flour and stir it into the fat, toasting it for 2 minutes, just until it begins to smell nutty.
Whisk in the beef stock. Bring it to a simmer, and cook until it reduces by a quarter.
Whisk in the heavy cream, vinegar, and luxardo. Simmer to again reduce the liquid by a quarter.
Taste and add salt & pepper if necessary.
Whisk in the red currant jelly until it melts into the gravy.
Finishing:
Return the meatballs to the pan, toss them with the sauce, and simmer for an additional 5 minutes.
Stir in the parsley leaves.

____________
Browse More:
Kangaroo Recipes
Ground Meat Recipes