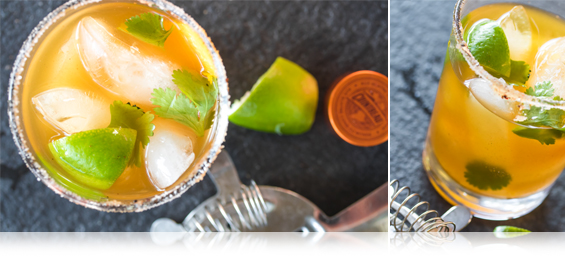 "Jalisco Smoke" Cocktail
This smoky, herby, citrusy, spiced drink brings a lot of flavor to every sip.
Ingredients:
5 sprigs Fresh Cilantro
¼ tsp Smoky Chile Powder Recipe
1oz Lime Juice
¾oz Simple Syrup (50/50 sugar/water)
1 1/4oz Silver Tequila
3/4oz Mescal
3/4oz Cointreau
Rim:
1 tsp Sugar
¼ tsp Smoky Chile Powder Recipe
1/8 tsp Salt
Garnish:
Cilantro Sprig
Lime Wedge
Directions:
Muddle the sprigs of cilantro in the bottom of a mixing tin.
Add the ice, then sprinkle in the chile powder.
Add all the liquid ingredients to the shaker & shake until well combined.
Rub the rim of the glass with lime. Mix together the rim ingredients and dip the glass rim into them to coat.
Add ice to the glass & double-strain the cocktail in.
Garnish with cilantro & lime.
_________
Browse More:
Cocktail & Beverage Recipes
Chile Recipes & Techniques
Herb Recipes & Techniques