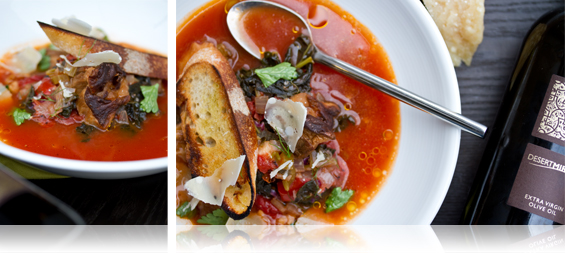 Italian Roasted Porcini Soup with Crostini & Parmesan
This soup is rustic, hearty, filling and intensely earthy…the perfect meal to fortify you on days when the weather outside isn't the best.
Wine Pairings: Vermentino or Burgundy
Ingredients: Makes 6-8 Servings
2 cups chopped Fresh or Frozen Porcini (we used Frozen Italian Porcinis)
1/8oz Dried Porcini Mushrooms
1 Onion, small diced
2 stalks Celery, halved lengthwise & diced
1 Bunch Kale (we used Dinosaur Kale)
1 Bunch Fresh Parsley
2 tbsp Extra Virgin Olive Oil
½ small bulb of Fennel, small diced
3" by 1" piece of Parmigiano Reggiano Rind
28oz can Crushed Fire Roasted Tomatoes
¼ shredded Red Cabbage
¼ cup Dry Vermouth (we used Dolin)
1 ½ quarts Chicken Stock
¼ tsp Red Chile Flake
Salt & Pepper
Garnish:
Baguette
Shaved Parmigiano Reggiano Cheese
Fennel Fronds
Fine Extra Virgin Olive Oil (we used Desert Miracle EVOO)

Directions:
1. Rehydrate the dried porcini mushrooms & reserve the soaking liquid (how to rehydrate dried mushrooms).
2. Chop the stems off the parsley. Chop the stems. Reserve the leaves for garnishing the soup.
3. Remove the stems from the kale & discard them. Chop the leaves into bite-sized pieces.
4. Heat the 2 tbsp of extra virgin olive oil in a large soup pot. Add the onion, celery, fennel bulb, red chile flakes and a large pinch of salt.
5. Saute the vegetables until wilted (about 10 minutes).
6. Add the cubed fresh or thawed porcini mushrooms. Saute briefly to cook out some of their liquid.
7. Add the vermouth, parsley stems, parmesan rind, red cabbage and kale.
8. Squeeze the liquid out of the rehydrated porcini. Mince it and add it to the pot. Add the soaking liquid to the pot, holding back any sediment in the bottom.
9. Add the crushed tomatoes and chicken stock to the pot. Bring the liquid to a boil, reduce to a simmer. Let simmer for 30-40 minutes.
10. Slice the baguette on a bias. Lay the slices out on a baking sheet and brush the tops with olive oil. Broil them until toasted.
11. Serve the soup in bowls topped with a piece of toasted baguette, shaved parmesan, fennel fronds and a drizzle of fine extra virgin olive oil.
Note: If you're using a mixed bag of frozen porcini mushrooms, this recipe is a good way to use the biggest, least perfect porcinis in your batch, as they'll be pureed.

___________
Browse More:
Porcini Mushroom Recipes