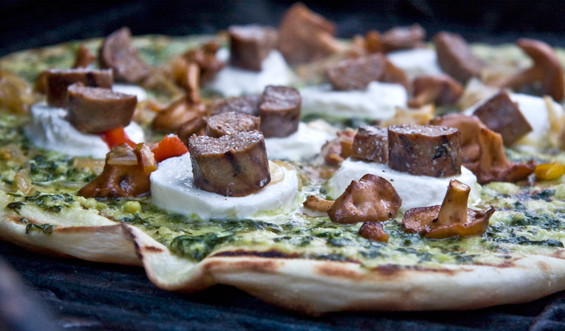 Includes a great basic pesto recipe below.
You don't need to buy a pizza stone so that you can bake pizzas. Your grill will do the trick. In fact, grilled pizzas are a delight.
Here's how to make a grilled pizza:
You can either make your own pizza dough or buy pre-made. You'll also need some flour, olive oil and whatever toppings you want to use.
For this pizza, we made a simple pesto, and topped the pizza with some sautéed fresh hedgehog mushrooms (although any wild mushrooms will do), browned onions, fresh mozzarella and buffalo sausage.
How to Make Pesto


The below isn't necessarily a classic pesto recipe, however, it is simple and tasty. Add to a vita-mix or food processor the following: a handful of fresh basil leaves (or more), a half-cup pine nuts, the juice of half a lemon, a half cup of grated parmigiano reggiano cheese, and salt & pepper to taste. Turn on the blender or food processor, until ingredients are roughly chopped. Then turn on the processor or blender and slowly drizzle in oil until you have a smooth sauce. That's it. Now you have pesto.
Sauteed Hedgehogs


Add some butter to a pan over medium heat. Season with salt and pepper to taste. Add hedghogs and sauté until they have released their liquid.
Preparing the Sausage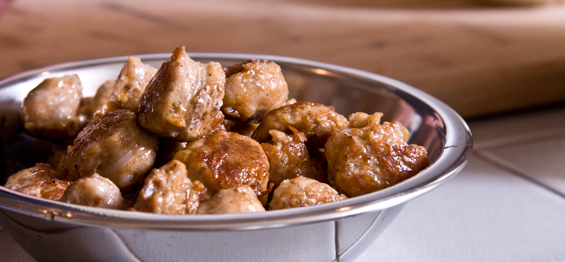 Slice the bison sausage (or whatever kind of game sausage that you like) into ½ inch slices. Add some olive or grapeseed oil to a saute pan over medium heat. Brown the sausage on all sides.
How to Grill a Pizza

Make sure the grill is well oiled and pre-heat to medium. Roll out some pizza dough on a board or counter that is dusted with flour. Oil one side of the dough generously…that oiled side is to go down first. Put the dough oiled-side down on the grill. Brush the upward facing side generously with oil. Once the bottom is nice and crusty, flip it over.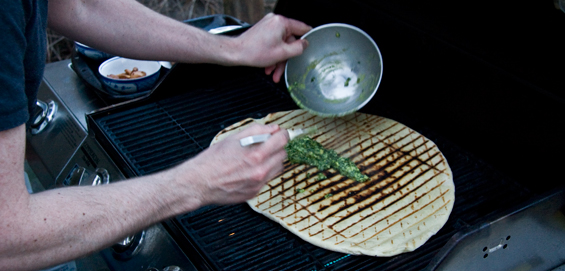 Build the pizza right on the grill. Spread the pesto. And, then top with mozzarella, browned onions, buffalo sausage and hedgehog mushrooms.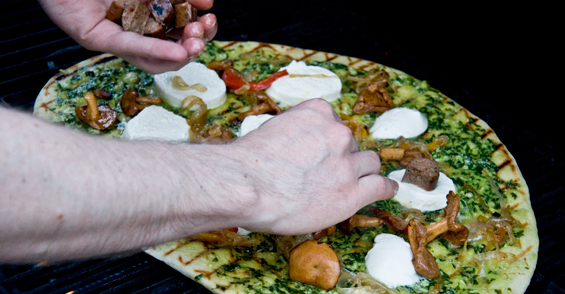 When the bottom is crispy and the cheese is melted, the pizza is done. Transfer it to a cutting board, slice and enjoy.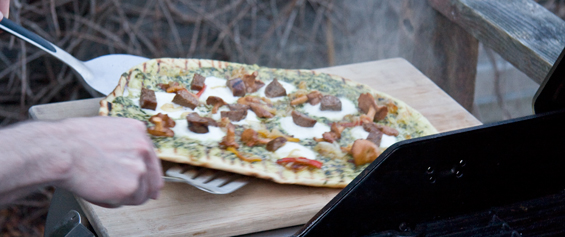 ___________
Browse More:
Culinary Techniques
Fresh Herb Recipes
Cheese Recipes
Mushroom Recipes
Sausage Recipes