Grilled Kobe Beef Sandwich
Makes 4 Servings
DRINK PAIRING
Smoked Porter or Sirah from Cornas
Rich kobe beef blossoms under the influence of herby salsa verde and the smoky pequillo pepper. The finish is brightened slightly with a slight tang from the pickled onions.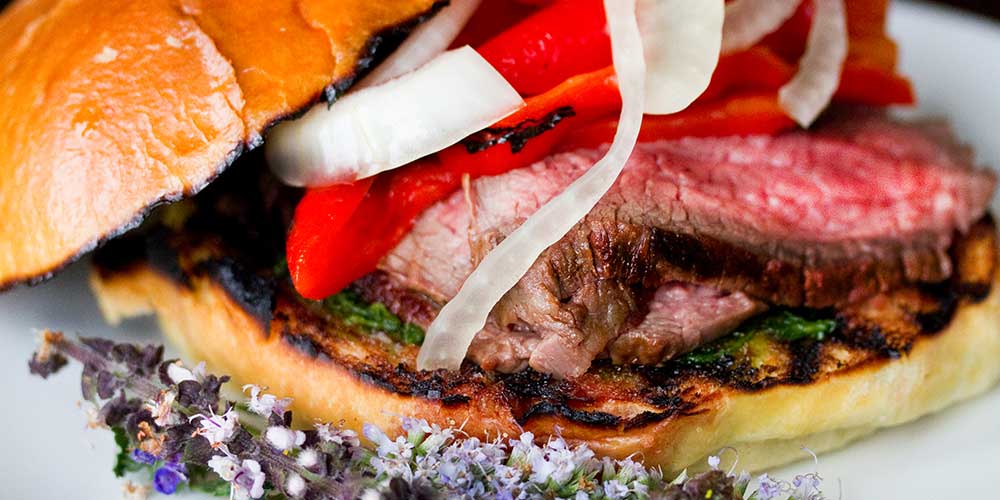 INGREDIENTS
1 tsp Pimenton (could substitute other paprika)

4 Roasted Pequillo Peppers

4 Burger or Brioche Buns

Salt
DIRECTIONS
1
Trim off any surface fat or silverskin.
2
Transfer to a zip top bag and add the pimenton and enough of the marinade to cover. Seal the bag, and transfer it to a bowl in the refrigerator to marinate overnight.
3
Remove the beef from the marinade and season with salt. Move to a preheated grill, and grill to your desired level of doneness.
4
Cover and let it rest for 5-10 minutes. While it's resting toast your bun.
6
Spread salsa verde on the bun, add a hearty helping of the beef slices, and top with a piquillo pepper and pickled onions. Serve.