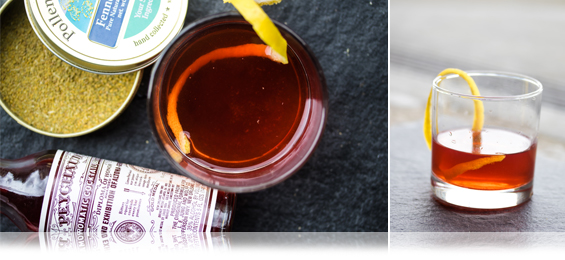 Fennel Sazerac Cocktail
Boozy & boldly spiced, this Sazerac recipe is made with a blend of bitters, fennel syrup, a heavier dose of rye whiskey & a light Pernod rinse instead of the typical absinthe/Herbsaint.
Ingredients:
2 1/4oz Rye Whiskey (we used Bulleit)
3 dashes Scrappy's Aromatic Bitters
5 dashes Peychaud's Bitters
1/2oz Fennel Pollen Syrup
Pernod Rinse
Garnish: Lemon Twist
Directions:

Combine the bitters, rye & fennel syrup in a mixing glass.  Stir with ice until well chilled.
Pour a small amount of the pernod into a rocks glass with ice. Swirl the ice to coat the glass with the pernod, then dump the ice and pernod (you want just a coating).
Pour the rye mixture into the rocks glass & garnish with the lemon twist. Serve.

Recipe by Tyler Kingdon
__________
Browse More:
Cocktail & Beverage Recipes
Fennel Pollen Recipes
Bitters Recipes