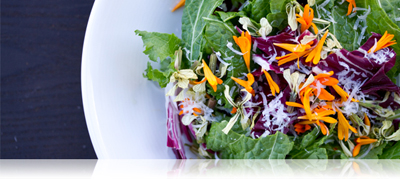 Edible flowers can really make salads unusual, exciting and vibrant. Smaller varieties can be tossed in salads whole while larger varieties can be torn into individual petals and sprinkled in.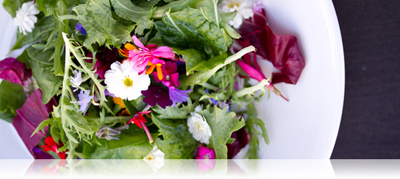 Some edible flowers may wilt or change color when exposed to vinegar, so if using a vinegar-based dressing on salads containing edible flowers, test it on a few blossoms ahead of time and/or add it right before serving.
Edible Flower Varieties That Work Well in Salads
Check out our edible flower buying guide for flavor info, blossom size & shelf life estimates for these varieties.
Arugula Blossoms
Bachelor's Buttons (off stems & separated into petals)
Micro Bachelor's Buttons
Borage Blossoms
Chive Blossoms
Calendulas      (separated into petals)
Fennel Blossoms (off their stems)
Garlic Blossoms
Karma Orchids (in small quantities)
Marigolds        (separated into petals)
Micro Blue Sapphires
Micro Marigolds
Micro Marigold Florets
Micro Orchids
Micro Pepper Flowers Purple
Micro Pepper Flowers White
Nasturtium Flowers & Leaves
Pansies
Squash Blossoms
Violas
Note: Though we used micro white mums in one of the above photos for visual contrast, we don't actually recommend serving this variety in salads…they can be tough & quite bitter.
For an Unusual Twist – "Electric Salads"
Petals from Szechuan buttons (aka buzz buttons) can be tossed into a salad to give diners an unexpected tingling on their tongue.  This trick isn't for everybody, every situation or every salad…but it can be fun.
_________
Browse More:
Edible Flower Recipes, Information & Techniques