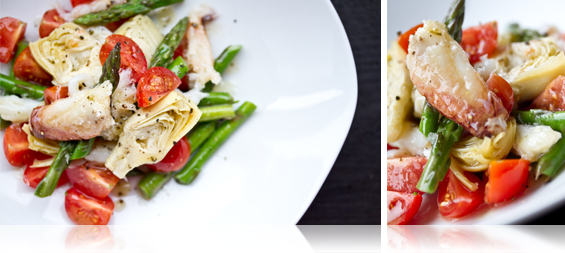 Crab Salad w/ Honey Lemon Vinaigrette
Simple and refreshing, this salad makes a nice light lunch or dinner but can also be used as an appetizer for fancier meals.
Ingredients: Makes 2 Servings
1/4lb Cooked Lump Dungeness Crab Meat
½ bunch Asparagus
9.9oz Jar Cooked Artichoke Hearts
15 Cherry Tomatoes
Salt & Pepper to Taste
Vinaigrette
1 ½ tbsp Meyer Lemon Oil
1 ½ tbsp. Olive Oil
1 tbsp Honey Wine Vinegar
½ tsp Tarragon Dijon Mustard (or substitute plain dijon mustard)
Directions:
1. Put ice and water in a bowl to create a bath to shock the asparagus.
2. Lightly steam the asparagus, just to your desired level of tenderness, then immediately plunge it into the path to stop the cooking process.
3. Cut the chilled asparagus on the bias into 1" lengths.
4. If they're whole, cut the artichoke hearts into halves.
5. In a small bowl, vigorously whisk together all the vinaigrette ingredients until a dressing forms.
6. Halve the cherry tomatoes.
7. Toss together the crab meat, asparagus, artichoke hearts and tomatoes with dressing to taste.
8. Put the salad on chilled plates or in chilled bowls. Finish with salt and pepper. Serve.

____________
Browse More:
Crab Recipes
Honey Wine Vinegar Recipes