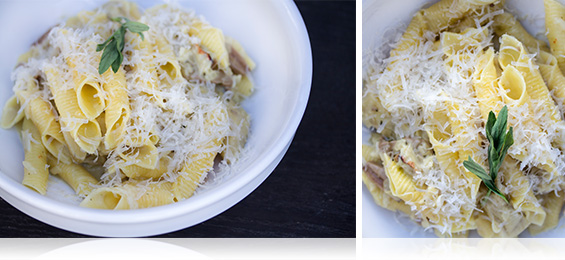 Easy Crab Pasta Sauce
This is the perfect recipe for satisfying weeknight crab cravings or making dinner an event even when you don't have a lot of time. Sweet Dungeness crab meat and artichoke hearts in a cream & white wine sauce, poured over your favorite pasta. Delicious!
Ingredients: Makes 2 Servings
1 cup Dungeness Crab Meat (could substitute other crab)
8oz Jar Quartered Artichoke Hearts in Oil, Drained
½ cup minced Onions
4 1/2oz Pasta (we used Filotea Pennette)
2 tbsp Unsalted Butter
1 tsp Salt
1 tbsp GarLic It! Caramelized Garlic Finish
¼ cup Heavy Cream
¼ cup Dry, Neutral White Wine (we used Sauvignon Blanc)
½ cup Low/No Sodium Veggie Stock, Fish Fumet, Mushroom Stock or Mushroom Rehydrating Water
1 Egg Yolk
Squeeze of Lemon Juice
Parmigiano Reggiano Cheese, grated
Directions:
1. Sweat the onions in a pan with the butter and salt.
2. Deglaze the pan with the white wine and simmer until the wine has almost completely evaporated.
3. Add the heavy cream, stock, GarLic It! & artichoke hearts. Continue to simmer.
4. Cook the pasta & drain it.
5. Take a small amount of the cream liquid and whisk it into the egg yolk (this is a thickening method known as a liaison).
6. Just before serving, add the crab meat, remove the pan from the heat, and slowly stir in the egg yolk mixture. The yolk will cook from the residual heat in the pan & sauce, thickening the sauce. Squeeze in the lemon juice.
7. Stir in the pasta to coat. Serve the pasta in bowls sprinkled with Parmigiano Reggiano to taste.

___________
Browse More:
Crab Recipes
Pasta Recipes