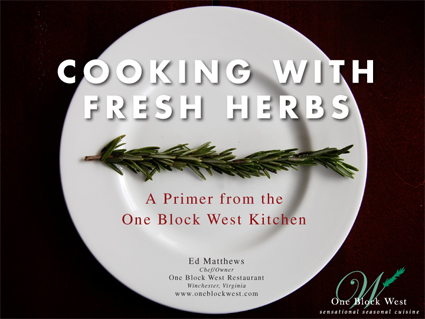 Chef Ed of fine dining restaurant One Block West has updated his excellent food blog with an exciting resource that we highly encourage you to download. Cooking With Fresh Herbs is a new mini e-cookbook that he is offering to anyone who wants to learn from a pro.
Small, but packed with knowledge
Cooking With Fresh Herbs is just the right size to be easily digestible while still being highly informative. In only 16 pages Chef Ed describes eleven of the most commonly used fresh herbs in terms of their flavor profile, preparation, and guidelines for use. Each herb description is accompanied by a fine-dining caliber recipe carefully constructed for the home-chef who is looking to take their abilities and knowledge to new heights.
Learn how to grow your own herbs
Of particular interest are Chef Ed's instructions for growing each of these herbs in your own home. Growing your own herbs ensures that you always have a ready supply, and that you always know exactly what conditions your herbs (many of which are not cooked extensively before being served) were grown in. Finally, herbs tend to be easy to grow, making them a great choice for people with limited experience or space, or parents looking for a great project to share with young children.
So head on over to Chef Ed's site and check out Cooking With Fresh Herbs.