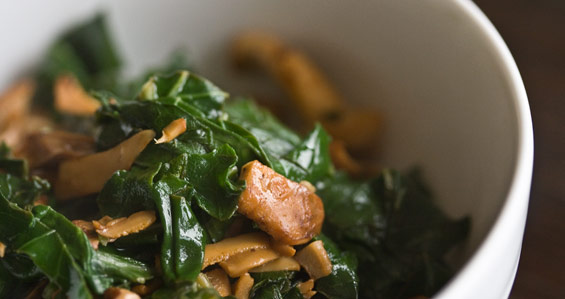 Kale & Wild Mushroom Side Dish (serves 6)
This quick, easy, and delicious vegetable side dish balances the slight bitterness of kale (an extremely healthy leafy green) with any variety of wild mushroom (in this photo and recipe, we used hedgehog mushrooms).
Ingredients:
2 bunches of kale
2 tbsp lemon juice
1 lb fresh hedgehog mushrooms (or any other variety of fresh mushroom)
unsalted butter
olive oil

1. Rough chop the hedgehogs and sauté them in butter with a little olive oil.
2. Wash and rough chop the kale.
3. When the hedgehogs take on color and become tender, add the kale and lemon juice. Continue to sauté just until the kale has wilted.
4. Add a tablespoon or two of butter and toss.
5. Serve.

___________
Browse More:
Hedgehog Mushroom Recipes
Produce Recipes
Mushroom Recipes