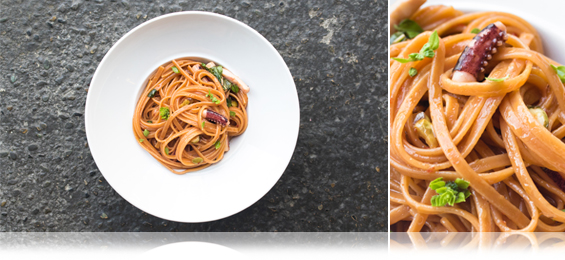 Chile Pasta with Chipotle, Squid & Basil
This seafood pasta recipe offers a complex blend of colors, flavors & textures: spicy-sweet, tender-chewy & citrusy-umami.
Wine Pairing: Soave Classic
Ingredients:               Makes 4 Servings (plus extra chile powder)
1 small Dried Morita Chipotle Chile
1/4 cup Shelled Pumpkin Seeds (aka Pepitas) or Pine Nuts
¼ cup Olive Oil
¼ cup Shallot, finely minced
1 1/4lb Squid, tentacles & tubes, tubes cut into strips
¼ cup White Wine
1 (8.8oz) package Morelli Red Chile Linguine
Juice of 1 Lemon
3 tbsp Fine Extra Virgin Olive Oil 1st Day Arbequina Olive Oil)
1 tsp Red Boat Fish Sauce
¼ tsp Honey
1/4 cup Chopped Italian (Sweet) Basil
Salt
Directions:
Toast the pumpkin seeds and chile in a dry pan. They're ready when the chile softens and becomes more aromatic, and the pumpkin seeds just start to brown & puff up.
Bring a large pot of heavily salted water to a boil.
Remove the chile & pumpkin seeds to a plate. Add the ¼ cup of olive oil to the pan along with the shallots and a pinch of salt. Cook over medium-high heat, just until the shallots start to brown.
Remove the chile's stem & shake out the seeds. Discard the stem & seeds. Grind the remainder of the chile to a fine powder in a spice grinder or clean bladed coffee grinder.
Add the squid to the pan & cook until the pieces just start to firm up (about 2 minutes).
Add the white wine to the pan & turn off the heat.
Simmer the pasta until it's almost al dente (you want it a little underdone).
Strain the pasta out of the water & add it to the pan with the squid. Add the fine extra virgin olive oil, lemon juice, 1 tsp of the chile powder, fish sauce, honey, and the toasted pumpkin seeds.
Turn the heat under the squid pan up to medium. Toss the contents until well combined, cooking until the pasta is al dente & has absorbed all the liquid.
Remove the pan from the heat & gently stir in the basil. Serve.
__________
Browse More:
Pasta & Pasta Sauce Recipes
Squid Recipes