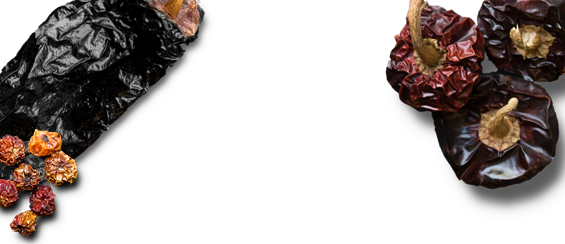 This recipe has a lot of steps, but it's really very easy…and the results are delicious! The people you serve these delectable truffles to will think you put in a lot more work than you actually did.

Ingredients:
½ cup Heavy Cream
1-2 tsp Chile Powder (we recommend one of these chile powder recipes)
1/2lb 64% Bittersweet Chocolate
1 tsp Salt

Caramel:
1/3 cup Sugar
2 tbsp Unsalted Butter

Coating:
1 tsp Unsweetened Cocoa Powder
½ tsp Chile Powder

Directions:
1. Optional: If you want to cut your truffles into cubes (as we have here), line a small baking dish with aluminum foil & spray it with nonstick cooking spray.
2. Pour the cream into a small saucepot over medium heat.
3. Cook, stirring occasionally, until the cream just starts to steam.
4. Remove the pot from the heat & stir in the chile powder. If you're using one of our recipes, we recommend the following amounts:
Fruity – 2 tsp
Smoky – 1 tsp
Hot! – 2 tsp
Flavor Blend – 2 tsp
5. Let the chile powder steep in the cream for 20 minutes. Then strain the powder out & discard it, reserving the cream.
6. Make the Caramel: Pour the sugar into a small pot. Cook it over medium-high heat until it melts and turns a reddish brown color.
Remove the pot from the heat & stir in the unsalted butter until it melts in.
7. Whisk the chile infused cream into the caramel, along with the teaspoon of salt.
8. Return the pot to the heat, and stir until the mixture has a smooth consistency.
9. Pour the caramel/cream mixture over the chocolate.
10. Stir the chocolate slowly, working from the middle out, until it's all melted into a smooth ganache.
11. Pour the ganache into a bowl or the prepared baking dish.
12. Move the ganache to the fridge, covered, to chill & set.
13. Optional: Remove the foil-wrapped ganache from the dish (if you did step 1).
14. Cut or scoop truffles out of the ganache.
15. In a small bowl combine the coating ingredients.
16. Dip the top of each truffle into the coating.
17. Enjoy!

_____________
Browse More:
Chile Recipes & Techniques
Chocolate Dessert Recipes