Butter-Basted Skirt Steak with Chanterelles
If you've ever looked down on the humble skirt steak as inferior to more expensive cuts like the filet mignon…this recipe just might change your mind. This dish is simple, but delicious and lets the steak and mushrooms stand on their own with just a slight thyme/butter flavor.
Drink Pairings: Oregon Pinot Noir or Sangiovese from Chianti, Italy
Ingredients:
7oz Grass-Fed Beef Skirt Steak per person (you could substitute bison skirt steak or Kobe beef skirt steak)
½ cup Fresh Chanterelle Mushrooms per person
2 sprigs Fresh Thyme
1 tbsp Unsalted Butter
1 clove of Garlic, skin on
Plus:
About 1 cup Basic Oil Meat Marinade
Directions
1. Trim off any surface fat or silverskin.
2. Transfer to a zip top bag and add enough of the marinade to cover. Seal the bag, and transfer it to a bowl in the refrigerator to marinate overnight.
3. Remove the skirt steak from the oil, season with salt and pepper. Cut into manageable pieces. Get some oil hot in a frying pan over medium-high heat and add the skirt steak.
4. Crush the garlic with the side of your chef's knife, but do not peel it.
5. Once one side of the steak has developed a dark brown crust, flip it, turn the heat down to medium, and add the thyme, butter, and garlic.
6. Continue to cook the steak until your desired level of doneness has been reached, basting with the melted butter.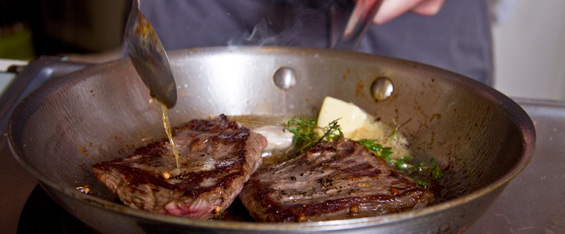 7. Remove the steak from the pan, cover it with foil, and let it rest for five to ten minutes before slicing.
8. Saute the chanterelles in the remaining butter in the pan until they've darkened, become tender, and emit a nutty aroma.

9. Thinly slice the skirt steak against the grain and plate it with the chanterelles. Top with a little of the juices that have collected on the resting plate. Serve.

___________
Browse More:
Flank, Hanger & Skirt Steak Recipes
Chanterelle Mushroom Recipes
Grass-Fed Beef Recipes
Kobe Beef Recipes
Bison Recipes