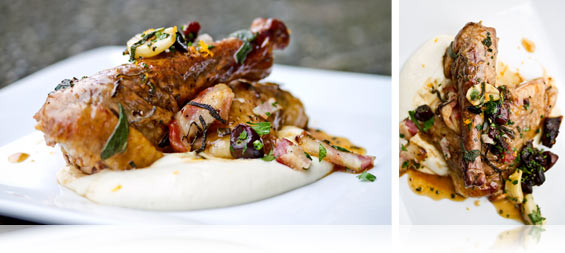 Braised Guinea Fowl w/ Olives, Thyme & Prunes
Guinea fowl have a more robust flavor than chicken, closer to duck or goose. They pair well with fruit flavors – here we've braised one with garlic, prunes, bacon, olives, white wine and herbs.
Wine Pairing: White Bordeaux
Ingredients: (Makes 4 Servings)
1 Whole Guinea Fowl
3 strips of Bacon, cut into lardons (sliced crosswise)
½ cup Kalamata Olives, pitted & chopped
12 Prunes, halved
1 head of Garlic, cloves peeled & separated
½ cup Chicken Stock
3 tbsp White Wine
1 tbsp Fresh Sage, cut chiffonade
½ packet (.75 oz) Duck Demi Glace Gold
½ cup Chicken Stock
2 tsp Fresh Thyme, chopped
2 tsp Fresh Sage, chopped
2 tsp Fresh Chives, chopped
½ tsp Orange Zest
1 pinch of Salt
Black Pepper
Recommended Side: Sunchoke Puree Recipe
Directions:
1. Optional (but recommended): Air dry the guinea fowl for 1-2 days in your refrigerator (see Poultry Prep Tips for more info).
2. Preheat your oven to 450 degrees.
3. Cut the guinea fowl into leg-thigh pieces and breasts (how to cut up poultry).
4. Put the guinea fowl pieces in a wide baking dish, skin-side up. Sprinkle the bacon, prunes, white wine, garlic cloves, chicken stock, chiffonade-cut sage, olives, salt & pepper over the top. Roast in the oven.
5. After 20 minutes, reduce the heat to 375 degrees. Continue to roast until the meat registers an internal temperature of 160 degrees.
6. Switch the oven to broil & broil until the guinea hen develops a nice brown crust.
7. Remove the roasting dish/baking dish from the oven and drain the liquid from the pan into a frying pan.
8. Bring the braising liquid to a simmer. Stir in the duck demi glace gold and chicken stock. Simmer to reduce to until the sauce coats the back of a spoon. Add 1 tsp each of thyme, sage and chives.
9. Remove the guinea fowl meat from the roasting pan, leaving the bacon, olives, prunes & garlic. Add the fowl meat to the sauce to reheat it.
10. Separate the garlic from the other roasting pan items. Roughly chop together the olives, bacon and prunes with the orange zest and the remaining 1 tsp each of thyme, sage, and chives. Mix the chopped mixture with the whole garlic cloves.
11. Serve the sauced guinea fowl next to the olive, bacon & garlic mixture. Finish with additional orange zest if desired. Serve with your choice of sides.

_________________
Browse More:
Guinea Fowl Recipes