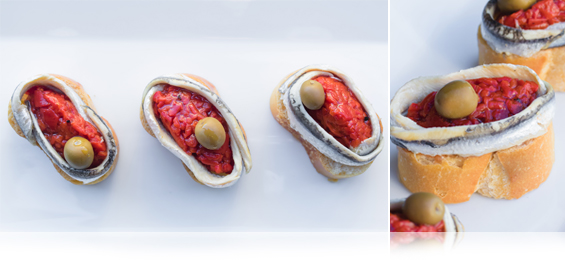 Boquerones with Piquillos & Olives Tapas
These tapas are smoky, sweet, fruity & savory with the umami-rich body of boquerones (white anchovies).
Ingredients:                       Makes 5 Servings
Five Baguette Slices, toasted
5 Piquillo Peppers, drained, deseeded & diced
10 Boquerones, drained, rinsed & gently patted dry
5 Arbequina Olives
Smoked Arbequina Olive Oil
Directions:
Drizzle the boquerones with the smoked olive oil & gently turn them to coat.
Form the diced piquillo into quenelles (how to make quenelles). Put one on top of each bread round.
Encircle each quenelle with two of the boquerones fillets (one on each side).
Move the constructed tapas to a serving plate. Top each one with an arbequina olive. Serve.
_________
Browse More:
Boquerones Recipes
Chile Recipes