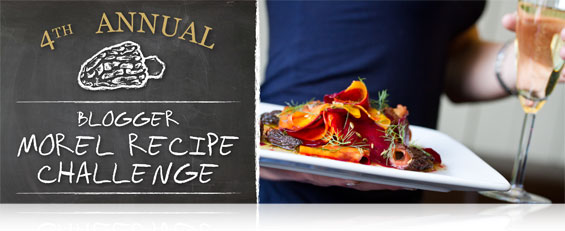 Fresh morel mushrooms will be here soon, and the wait is killing us.  We want to gobble up as many of those tender, buttery, spongy, earthy morsels as possible right now.
But we can't.
Staring longingly at their dried brethren, safely ensconced in their plastic bags, we've decided the time has come to hold our 4th annual morel contest!
We're looking for a bevy of bloggers ("morelnauts"?) to take samples of our dried morels and turn them into incredibly tasty, inventive, drool-inducing original recipes.
The blogger who submits the best recipe will get 2lbs of fresh morels as soon as we get them.  Not only that, but they'll get an additional 2lbs shipped directly to their chosen bfff (best foodie friend forever).
Sound like fun?  Send an e-mail to Katie – kwallace (at) marxfoods (dot) com – with your name, shipping address, and blog url to be considered for entry.
Full Challenge Rules:
1. Justin & Katie will pick a bunch of bloggers (from a list of those who e-mailed her) and ship them each a sample of dried morels by 4/9.
2. Each entered blogger should use the sample morels to create an original recipe & post it on their blog by 4/29. Please e-mail Katie the URL once it's live.
3. Links to all submitted recipes will be posted on the Marx Foods blog as a poll running from 5/1 to 5/3.
4. The ultimate winner will be selected via a combination of the poll results and a poll of all entrants. Each entrant will vote for their two favorite recipes (besides their own).  The top three vote-getters on the blog poll will each get an additional two votes.
The blogger with the most total votes wins!
5. Marx Foods will contact the winner for the name & shipping information of their chosen buddy.  When fresh morel mushroom season is on, we will ship both the blogger and their buddy 2lbs of fresh morels.