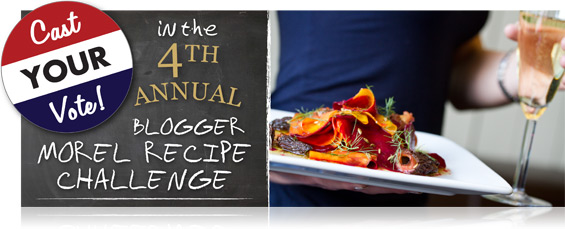 Feast your eyes upon the 14 amazing recipes filled with morel goodness from our 4th Annual Morel Recipe Challenge. For this contest, we asked bloggers to create original recipes featuring morel mushrooms. We sent out samples of dried morels to the participating bloggers to create their best morel masterpieces and they came up with everything from pasta & pastries to tarts & even egg rolls.
Now it's time to cast your vote for your favorite recipe. At stake for one lucky blogger is 2lbs of fresh morels! And better yet, the winning blogger gets to pick their bfff (best foodie friend forever) to receive another 2lbs of fresh morels.

[poll id="28″]
The polls will close at 6pm PST on 5/3, so make sure you vote before the deadline.
The ultimate winner will be chosen via a combination of this public poll and an internal vote amongst all of the participating bloggers. Each blogger will pick their two favorite recipes (besides their own), and the top three vote-getters from this blog poll will each have an additional two votes added to their score. The blogger with the most total votes will win!